Here's South Africa's first drag reality TV show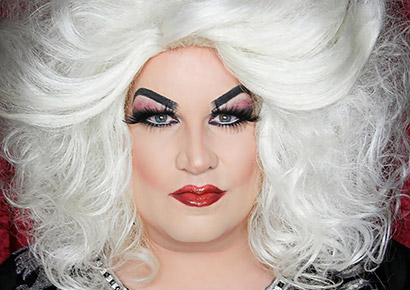 Well known Gauteng drag star Betty Bangles is getting her own reality show in which she'll groom three aspiring drag queens to compete in a major drag pageant.
Coming to TV screens in July, Betty Bangles en die Dossers is described as a first of its kind on South African television that's sure to raise a few eyebrows among more conservative viewers.
In the eight-part Afrikaans series, Betty will mentor three drag queens to improve their craft and send them on a trip to the Pink Loerie Mardi Gras & Arts Festival in Knysna. There they will have a chance to compete to win the title of Miss Gay Mardi Gras Southern Africa.
Betty will also call on a few of her fabulous celebrity friends to help judge and inspire the contestants. Special guests that appear in the show include: Chris Martin a.k.a Cleo; Ryno Mulder a.k.a Starr Wood; JJ Schoeman; Casper de Vries; Gavin Prins; Armand du Plessis; Bianca Le Grange; Heidi du Toit from Hollywood Costumes; Demi Leigh Nel Peters; Tobie Jooste; and the Queens of Wigstock – Olivia Mae, Victoria Styles, Jett Joans and Charnè.
With a stroke of a lip liner, the tightening of a corset and the careful teasing of his latest wigs, Bernard Buys, 37, transforms himself into the fabulous and daring Betty Bangles.
Buys, who grew up in the conservative town of Potgietersrus in Limpopo, works as a hairdresser for a well-known salon in Clearwater Mall, West of Johannesburg.
After doing drag for 17 years, he's become one of the country's top drag performers. His persona, Betty Bangles, is a fun and outgoing character who performs in a show at Beefcakes on Fridays and is a co-host of The Casper Radio Show on CliffCentral.
"I've been dreaming of doing my own TV show for quite some time," Buys tells Mambaonline. "I originally had a different concept in mind but then I met up with the producers and we brainstormed and together came up with the concept for the reality show," he says.
Buys hopes that the series will change the way that the public perceives drag performers. "By showing them a glimpse into the life of a drag queen they'll see that [in most cases] drag queens are not transgender women. I dress up, and become Betty for an hour or two, do my show, undress, take off my makeup and I'm Bernard again. Drag is a hobby, and for some people it becomes a career. It's what you do, and not who you are."
Hermi King, the show's Executive Producer, says that, "Filming Betty Bangles en die Dossers was filled with lots of laughs, tears and surprises. It has been an incredible journey to meet these wonderful people. I have such respect for their effort and dedication."
When asked why viewers should tune in to watch the show, Buys replies: "It is fun and fabulous and for anyone with an open mind; it doesn't matter if you are gay or straight, there's something for everyone. You are promised to have a laugh in every single episode and maybe shed a tear or two as well."
Betty Bangles en die Dossers debuts on the 7th of July 2017 on VIA, channel 147 on DStv, at 9pm.