Seven arrested in Cairo for waving rainbow flag at concert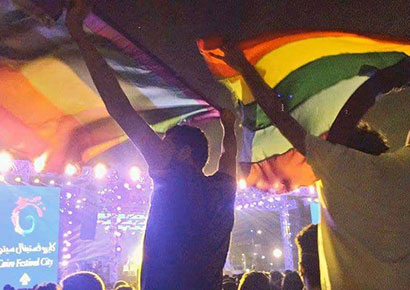 A concert by a gay affirming rock band in Cairo has led to seven people being arrested for waving a rainbow flag and the group barred from playing again in Egypt.
The incident took place at the Music Park Festival on Friday which was attended by thousands of people. At one point, two rainbow flags were joyfully waved in the air by members of the audience during a performance by the Lebanese band Mashrou' Leila.
The five member group advocates for freedom of religion, political expression and sexual and gender diversity in the Middle East. Mashrou' Leila's Lebanese-American lead singer and co-founder Hamed Sinno is a proudly gay man.
The moment was hailed by blogger Maha Mohamed as a significant one. "Yesterday, September 22nd 2017, was a historical day," she wrote. "For the first time in history of Egypt, young people of the LGBTQ community raised too many of the rainbow flags in Cairo sky, at Mashrou' Laila's concert, declaring our existence and right to live freely and proudly."
Conservative Egyptians, the media and officials, however, were outraged and scandalised by footage of the flags being held up amongst the crowd. It's reported that detectives were able to identify and track down the individuals allegedly involved and arrested seven concertgoers.
In a Facebook post, the Al Nour political party demanded that those arrested be punished and that action be taken against the band. It questioned how "groups of homosexuals" had been allowed to "raise their flags openly and provocatively".
The party slammed the "disruption of the values of Egyptian society" and called for those who had given permission for Mashrou' Leila to perform in Egypt to face sanctions.
The Syndicate of Musical Professions went on to announce on television that it had decided to ban any future concerts by the band. The organisation's deputy, Reza Ragab, explained that this was because the group performed "abnormal art".
In April 2016, Mashrou' Leila was also banned from performing in Jordan, reportedly because of their support for LGBT equality.
Homosexuality is not specifically outlawed in Egypt but gay people are often targeted and jailed through immorality or public indecency laws. The authorities have been accused of using social media, including dating apps, to track down and arrest gay men.