Historic! South Africa's Parliament endorses Coming Out Day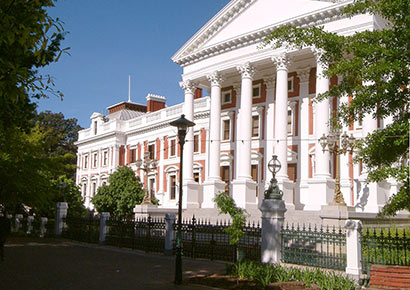 In an unprecedented move, the National Assembly of South Africa has adopted a resolution supporting international Coming Out Day.
On Tuesday, MP Zakhele Mbhele (DA) introduced a Motion Without Notice for Parliament to recognise the day, which is celebrated annually on 11 October.
The motion noted that Coming Out Day aims to "create an environment where living openly and honestly as LGBTQ people is possible" and is "premised on the foundational belief that prejudice against LGBTQ people thrives in an atmosphere of silence and ignorance."
It acknowledges that coming out is "one of the most powerful tools of activism because, at its most benign, prejudice and discrimination seek to shame and demean LGBTQ people into silence and invisibility."
Remarkably, the National Assembly further acknowledged that the DA is the party with the most "out" MPs, MPLs and councillors in South Africa.
Finally, the motion pledges solidarity with "the aims of Coming Out Day and vulnerable LGBTQ people around the world, as an affirmation of section 9 of the Constitution," which protects the rights of LGBTQ South Africans.
Mbhele told Mambaonline that the adoption of the motion means that "it becomes a resolution of the National Assembly and goes into the official parliamentary record."
He explained that, "it's symbolic more than anything else – call it an 'institutional expression of sentiment' – but it serves the aim of making LGBTQ issues visible in Parliament and putting them officially on the agenda."
"It also means that in future, the resolution can be cited as an official position of the National Assembly if the House needs to be called out for failing to uphold and protect LGBT equality," added Mbhele.
The motion did not require a vote to pass, but received no objections from the other parties present, including the ANC.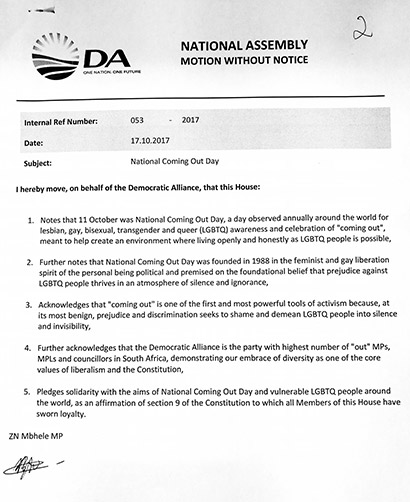 Mbhele – known as Africa's first openly gay black MP – commented that the motion would not have been adopted had the notoriously homophobic ACDP been present, as the party would have likely objected and quashed the initiative.
The ACDP previously blocked at least two LGBTQ-affirming motions in Parliament; one congratulating South Africa's Francois Nel for winning Mr Gay World in 2011 and another in May 2015 in support of the country hosting Mr Gay World and condemning homophobia.
In June, ten DA MPs posed for a group photo as openly LGBTQ MPs in Cape Town, outside the National Assembly building in Parliament.
While other parties have some LGBTQ MPs and politicians, (including the ANC's Lynne Brown, the Minister of Public Enterprises), they have tended to remain in the background when it comes to their sexuality and in addressing LGBTQ issues.