Friend or foe? What's Cyril Ramaphosa's stance on LGBTI equality?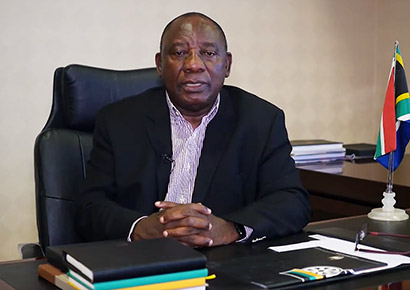 While we know that Jacob Zuma holds homophobic views, what about his successor as ANC President, Cyril Ramaphosa?
When it comes to LGBTI right, Zuma's legacy is unlikely to be remembered fondly. His most infamous remarks on the matter were made at a Heritage Day celebration in KwaZulu-Natal in 2006.
Speaking to a large crowd, he stated: "When I was growing up an ungqingili [a gay] would not have stood in front of me. I would knock him out." He went on to say that same-sex marriages were "a disgrace to the nation and to God".
Under immense pressure, Zuma later apologised "unreservedly" for the comments, but few were convinced that his bigoted beliefs had really changed.
And while there have been attempts to tackle LGBTI hate crimes within the country through the National Task Team, Zuma's administration will be remembered for its unenthusiastic support for equality on the international stage.
President Zuma has repeatedly refused to condemn anti-gay legislation enacted in other African countries, such as in Uganda and Nigeria, and outrageously appointed defiantly homophobic former journalist Jon Qwelane as South Africa's ambassador to Uganda.
Under his leadership, there have also been some embarrassing failures by the Department of International Relations and Cooperation to support measures at the UN to protect LGBTI people.
As for Deputy President Ramaphosa, who was elected to head the ANC on Monday, there is a sense that he is much more of a friend to the LGBTI community and a champion of diversity and constitutional values (which Zuma, clearly, is not).
Ramaphosa has played a prominent role in the fight against the spread of HIV in South Africa as Chairperson of the South African National AIDS Council (SANAC), which has embraced pro-LGBTI policies.
While some of his previous speeches have been inclusive of the LGBTI community, it was only very recently that he made his perhaps strongest and most direct comments about sexual and gender minorities.
Last month, Ramaphosa recorded a short video that was played at the 9th annual Feather Awards, which honours celebrity allies as well as LGBTI activists.
In it, he said: "It is a sad truth that in our nation the LGBTI community are amongst the most vulnerable and marginalised. They suffer discrimination, violence and abuse. We must as a nation do better than what we are now.
"We are all born the way we are. We need to support, embrace and respect each other. When we treat each other with dignity, we are all more dignified. When we treat each other with respect, we are all more respected. It is upon us all to contribute to the creation of a more just, equal and safe society.
"Every South African must hold themselves, our communities, our institutions and our government accountable for upholding our laws and for protecting the rights of all in South Africa," said Ramaphosa.
He concluded by urging the audience to "affirm yourselves and your identities as well as your various diversities and celebrate your wonderful, beautiful, outstanding humanity."
It remains unclear at this point how much influence Ramaphosa will have on government policies ahead of the 2019 elections, and when and if he will become president of the country. Nevertheless, he represents hope that South Africa may once again be led by a man who is genuinely respectful of the rights, freedoms and dignity of LGBTI people, here and across the continent.