Call Me By Your Name pulled from Chinese Film Festival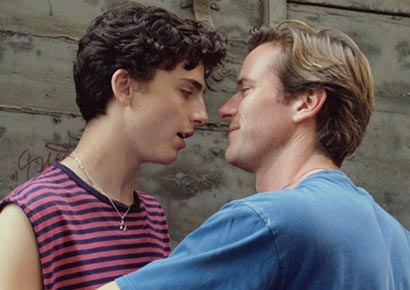 Was the Oscar-winning Call Me By Your Name dropped by the Beijing International Film Festival because it's a gay romance?
According to Reuters, the film's distributor, Sony Pictures Entertainment, has confirmed that the film was withdrawn from the top festival, which is set to take place next month.
No reasons have been given for Call Me By Your Name being pulled from the event, but it's suspected that it's part of a trend to further restrict the freedom of expression of the LGBT community in China.
"This movie is in deviation from the policy environment in China," Wu Jian, a Beijing-based film analyst, told Reuters, noting that it was "quite embarrassing for China" that it had been dropped.
Homosexuality is not illegal in China but LGBT people have no specific protections from discrimination and it remains a taboo. Same-sex relationships are also not legally recognised.
In 2015, homosexuality was barred from being shown on television by the China Television Drama Production Industry Association. Last year, the industry body regulating online content, the China Netcasting Services Association, issued new guidelines banning homosexuality online as "abnormal behaviour".
There are also reports that public hospitals and private clinics in China continue to subject young LGBT people to cruel procedures, including shock therapy, in a misguided attempt to "cure" them of their homosexuality or gender identity.
Call Me By Your Name was nominated in four categories, including best film, in this year's Oscars. It went on to win for best adapted screenplay. It tells the story of a summer love affair between a 17-year-old boy and a 24-year-old American man in Italy during the 1980s.
Despite receiving widespread acclaim, it's not the first time it has faced restrictions. Last month, Luca Gudagnino's film was reportedly also banned in Tunisia after the country's culture ministry refused to issue a permit for it to be screened.