Taking action against anti-LGBT online hate speech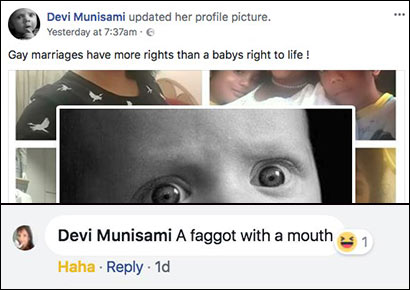 Website editor Naufal Khan has had enough of online homophobic abuse. He's taking a woman to the Equality Court after she allegedly called him an anti-gay slur on social media.
Khan, who is the openly gay founder and editor of Indian Spice, says he was harassed by a Durban woman because of a story he published about a radio presenter who allegedly posted anti-Muslim comments on Facebook.
Pauline Rosanna Sangham, who hosted the Christian show Gospel Hour, was recently fired from Lotus FM, reportedly in part because of the Islamophobic statements.
This controversy saw a group of Christian supporters coming to her defence, and that included attacking Khan, who had strongly criticised Sangham. In a series of heated exchanges, one of the individuals, Devi Munisami, allegedly made a number of derogatory references to Khan's sexuality.
"Naufal Khan, he needs a couple of women to drag him out of his comfort zone…" she is reported to have said, adding, "I must give him my grandmother's panties so he can act like one."
When Khan called her out on her homophobia, Munisami allegedly responded by describing him as: "A f****t with a mouth."
Munisami appears to have previously published homophobic comments online, including, for example, stating that "gay marriages have more rights than a baby's right to life".
Khan has refused to let the matter go and has approached OUT's Love Not Hate Campaign and the Center for Human Rights at the University of Pretoria. They have agreed to assist him in taking Munisami to the Equality Court over her comments.
"Taking onto context that Cabinet passed the Hate Crimes Bill last month, this is perfect timing," says Khan. "Vicky Momberg went to jail for what she said and it's time that Devi learned a lesson."
He believes that comments like the ones allegedly made by Munisami can fuel more hatred against the LGBT community and could lead to "someone actually harming an LGBT person".
Khan says that, "We see cases where it starts with an insult and sometimes leads to violence," and insists that it is important to take a stand against occurrences of hate speech.
"If not, we're just sitting back and letting everybody perpetuate the hate," he adds.
If you have been a victim of online LGBT hate speech you can report it to the Love Not Hate campaign or report the incident anonymously via South Africa's first LGBT hate crime reporting site.
You can also lodge a complaint with the SA Human Rights Commission or take the matter to the Equality Court.
UPDATE 16/04/2018: Devi Munisami has messaged Mambaonline with a response to Khan's claims. She wrote: "As God is my witness I NEVER knew F****t was derogatory, just thought it's another word for gay, because I will never discriminate another human being." Munisami also alleges that Khan used derogatory words against her, which she described as "hate speech against women". She said she'd had discussions with POWA (People Opposing Women Abuse) in this regard. Munisami added: "I am totally against any form of abuse against women and children or humanity."