Viewers react with outrage to 7de Laan's first lesbian kiss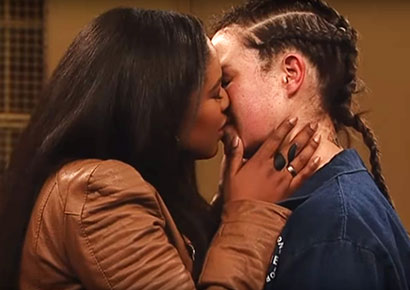 Soap series 7de Laan continues to break new ground for the Afrikaans LGBT community with a steamy onscreen lesbian kiss but some homophobic viewers are left scandalised.
Thursday's episode featured what's believed to be the show's first lesbian smooch, between the characters of Amanda and Monique (whose real name, apparently, is Jasmine).
We have to admit that we don't follow the daily SABC 2 series but from what we can gather Amanda lost her recently born daughter in prison due to complications. She named the baby after her lover, Jasmine.
In the episode, a tearful Amanda opens up about the tragedy to Jasmine during a visit, telling her that she named the little girl after "the most beautiful woman and name under the sun." The women kiss, at first tenderly, and then with considerably more passion, leading up to the end credits.
The show of affection between the characters was welcomed by some but also met with predictable and offensive homophobic disgust.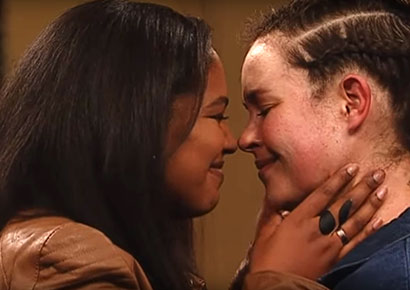 Jo Ridley wrote on the 7de Laan Facebook page: "Oh no. 7de Laan is now just for lesbians and gays. Not for me anymore, thanks." When called out for her bigotry, she responded: "I am proudly homophobic as it's against my religious beliefs. 7de Laan was always a lovely program for people that paid their TV license. You can have your sick program."
Many others also openly expressed their revulsion at the scene, commonly describing it as "sick".
It's not the first time the show has included LGBT characters, although they have tended to be minor or short-term roles.
In April last year, the series featured it's first transgender character, played by transgender actress Deonay Balie. A month earlier, it also showed a man-on-man smooch between Logan (Simon Tuit) and Divan (Arnu de Villiers).
Mambaonline was unable to get in touch with 7de Laan's production company, Danie Odendaal Productions, for comment.