Strictly Come Dancing wows viewers with same-sex routine (Watch)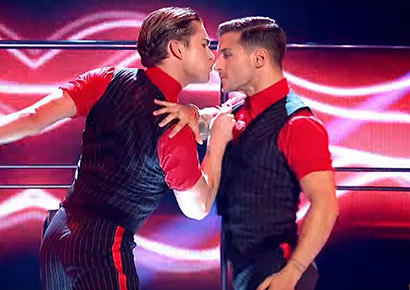 The UK version of popular TV dance competition Strictly Come Dancing has been applauded for featuring an impressive same-sex dance routine.
The once-off sequence was performed during Sunday night's results show and featured the show's professionals dancing to Imagine Dragons' song Believer.
Things started off with the standard opposite-sex couples but a minute and a half in showed AJ Pritchard and Gorka Marquez passionately dancing together. Then, as the camera pulled back, it was revealed that the rest of the team had also been paired off as same-sex duos.
The unexpected routine was met with widespread acclaim by viewers on social media, who praised it not only for the inclusion of same-sex couples but also for its high standard of dancing.
"That routine was sublime. I sat here clapping like a happy sea lion afterwards. It was so dramatic! #fabulous," commented GrannyHanney on Twitter.
Ellieeeee added: "Why am I crying because they have same-sex dancers?? this is SO importanttttttt #strictly." Sarah Doran noted: "No big deal or gimmick made of it, just dancing, and brilliant dancing at that!"
Jason Gilkison, the show's creative director of choreography, tweeted in response: "Thank you so much for all the very kind comments on tonight's @bbcstrictly group number – our incredible pros and fantastic production team always knocking out of the ballpark."
Strictly Come Dancing has come under growing pressure in recent years to allow same-sex celebrity/professional couples to compete in the series but has so far refused to do so, despite support from judges Shirley Ballas and Craig Revel-Horwood.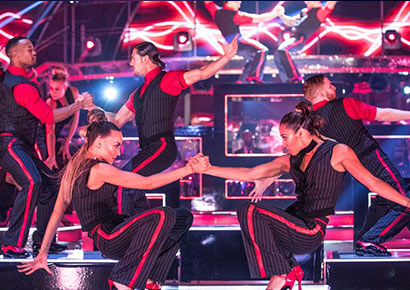 Last year, a spokesperson for the show disappointed fans by stating: "Strictly has chosen the traditional format of mixed-sex couples and at the moment we have no plans to introduce same-sex couples."
The positive response to Sunday night's professional dance pairing, however, could finally see producers take the important step of including competing same-sex couples in the series.
Thank you so much for all the very kind comments on tonight's @bbcstrictly group number -our incredible pros and fantastic production team always knocking out of the ballpark ????…

— Jason Gilkison (@JasonGilkison) September 30, 2018
why am I crying because they have same-sex dancers?? this is SO importanttttttt #strictly

— ellieeeee (@chrissiewhites) September 30, 2018
Loving the same-sex professional pairings on #Strictly. No big deal or gimmick made of it, just dancing, and brilliant dancing at that! pic.twitter.com/0FI92isMIS

— Sarah Doran (@sarahisnothere) September 30, 2018
That routine was sublime. I sat here clapping like a happy sea lion afterwards. It was so dramatic! #fabulous

— Kathy Hanney (@GrannyHanney) September 30, 2018