Mr Gay World speaks out against LGBTQ+ crackdown in Tanzania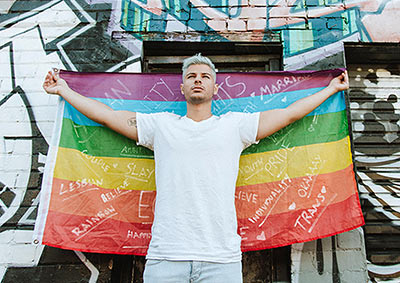 Australian Jordan Bruno, Mr Gay World 2018, has condemned the latest crackdown against the LGBTQ+ community in Tanzania.
"As Mr Gay World, I find it enormously unfortunate that Tanzania has decided to target and attack the LGBTQ+ people of its country through a targeted witch hunt," said Bruno, who won the title in May, in a statement.
"The queer community within Tanzania are already marginalised, discriminated and bullied, so it is discouraging to hear that the government wants to create a task force to encourage these values of hatred."
Last week, the governor of Dar es Salaam, Paul Makonda called on the public to turn in LGBTQ people to a 17-member team, causing panic and fear. So far, at least ten men have been arrested in the clampdown.
Bruno reminded the Tanzanian government "that they have a duty to protect all the citizens of Tanzania and ensure that every individual has access to human rights and is free from discrimination." He added: "As a member of the LGBTQ+ community, I am beyond disappointed to hear what is happening to my community and hope the queer community can remain strong and resilient in the face of adversity."
The Mr Gay World organisation urged the Tanzanian government take into account the aspirations set out in the Maputo Protocol (2003) on Sexual and Reproductive Health, the Angola Resolution 275 on Protection against Violence and Violations against Persons on the basis of their real or imputed Sexual Orientation or Gender Identity (2014) of the African Commission on Human and Peoples Rights, and Agenda 2063 of the African Union (AU), the universality and indivisibility of Human Rights, as proclaimed in the Universal Declaration of Human Rights (UDHR), and the African Charter on Human and Peoples Rights (ACPHR).
The organisation called on the Tanzanian government to immediately halt the persecution and take measures to protect the LGBTQ+ community in the country and for the Tanzanian president to condemn the violence and biased acts against LGBTQ+ persons.
Mr Gay World further appealed for the African Union and the ACHPR to intervene and for countries in the region to accept LGBTQ+ persons fleeing persecution and seeking safe haven.
Additionally, it said that the UNHCR (the UN Refugee Agency) must review its policy that LGBTQ+ refugees do not warrant special considerations and protections and acknowledge the need for additional services and dispensations for LGBTQ+ refugees.
The Mr Gay World contest will return to Africa next year when it is held in Cape Town from 28 April to 4 May 2019.