Shameful! South African homophobia and hate speech exposed online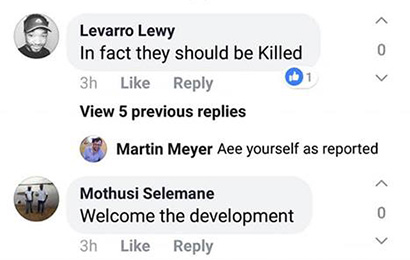 From calling for our execution to sending us to Antarctica, reports about the anti-LGBTQ witch hunt in Tanzania have exposed the horrific extent of homophobic hate speech from South Africans on social media.
On Monday, ENCA posted an article on its Facebook page about threats by the governor of Dar es Salaam to arrest LGBTQ people.
The comments from members of the public in response made for depressing reading. Just this one post alone was replete with dozens of examples of anti-LGBTQ bigotry. Among the most disturbing was one by Levarro Lewy in Polokwane, who wrote: "In fact they should be killed."
The shocking comment, which appeared to be promoting violence against LGBTQ people, could see him face hate speech charges if reported. His statement caused an uproar on Facebook, with some demanding that he be fired by his employer which, according to his Facebook profile, is SAB Breweries.
Jed Davidson was among those who complained to SAB via their Facebook page. He told MambaOnline that he spoke out because "Facebook is public and nobody should be be subjected to discriminatory and prejudiced language in a public sphere." He added that Lewy should face the "consequences for bringing the company into disrepute too."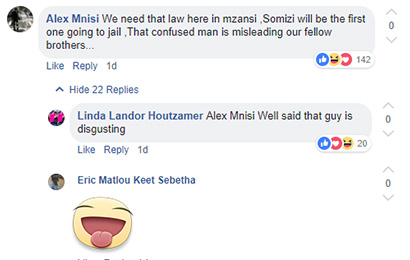 SAB responded to Davidson that it was looking into the matter. Mambaonline was unsuccessful in contacting the company directly. Lewy's statement now appears to have been removed but many other South Africans were vocal in their support for the persecution of LGBTQ people.
Alex Mnisi from Pretoria, for example, made the following statement: "We need that law here in mzansi. Somizi will be the first one going to jail. That confused man is misleading our fellow brothers…"
Users jumped in to call the openly gay media personality "disgusting" and "evil". Some also used the opportunity to claim that gay TV presenters were being used to "recruit" children into homosexuality. "Thabang Malete from Thembisa wrote: "Homosexuality is being forced on kids now… Like it's okay to be gay…. They say."
Mbu Diba Ngxishe Boco from Umtata also gave his backing to the Tanzanian crackdown, commenting: "Thts very good, they must be arrested." Others argued that Tanzania as a sovereign nation has the right to pass whatever laws it likes.
Quinton Hassie Mussa who lives in Johannesburg believes that discrimination against LGBTQ people is perfectly acceptable. "Its not hate when u believe in God its abomination. God himself doesn't like 'em," he stated.
Coutinho Coutinho suggested that gay people "be taken to Antarctica" as they "are a bad influence to our youth." Andile Xolo added that, "In the bible it says they must be stoned until death." Vusi Ngobeni went on to urge President Ramaphosa "to do the same thing here we as parents are getting stressed by moffies…"
LGBTQ people are seen as pariahs, perverts and outsiders in their own communities. What's alarming is that these South Africans do not even attempt to disguise their homophobia, expressing it in their numbers on a public platform with no apparent concern. The reality is that when it comes to homophobic hate speech and bigotry there are few serious consequences. For many, it's simply 'normal' and acceptable to be openly homophobic.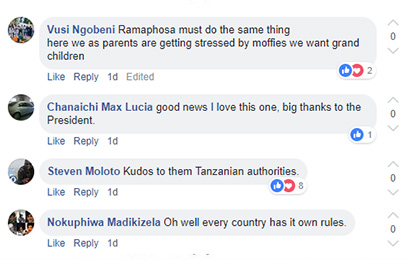 This is reflected in the status of cases revolving around anti-LGBTQ hate speech. Most famously, the case against disgraced journalist Jon Qwelane remains unresolved after a decade in the courts. More recently, Cape Town hate pastor Oscar Bougardt has simply ignored two hate speech court orders and continues to attack LGBTQ people.
In response to the hatred on the Facebook post, Scott Fuller wrote. "Yussis, reading these comments I'm ashamed to be South African. To all the homophobes piping up 'their country, their law' – not so long ago Apartheid was the law of this land."
He added: "Just because it is law does not mean it is moral nor just. This goes against internationally recognised HUMAN RIGHTS and is a violation of human equality and dignity. Shame on Tanzania." Indeed, and shame on South Africa too.
Update. 13 Nov 2018: SAB has responded to one of the complainants confirming that Levarro Lewey is "not in the employ of the company" and it has requested him to remove its name from his profile. It added that it is "committed to diversity and inclusion, respecting human rights of all" and "does not condone behaviour contrary to this by its employees of any third party vendors."