Hundreds march to Tanzania embassy, call for LGBTIQ boycott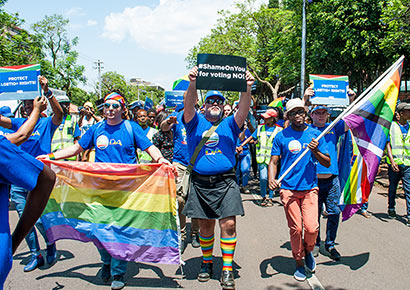 Around 300 people took part in a DA-organised march on the embassies of Tanzania and Uganda in Pretoria on Tuesday to protest the persecution of LGBTIQ people.
The #ShameOnYou protest was sparked by the decision, led by Uganda, at the 139th Inter-Parliamentary Union (IPU) meeting in Geneva last month to ban debates on LGBTIQ human rights.
The demonstration was also in condemnation of the recent renewed crackdown against LGBTIQ people in Tanzania, launched by the Regional Commissioner of Dar es Salaam, Paul Makonda.
The protesters gathered near the Union Buildings where the crowd was addressed by Wayne Helfrich, DA Gauteng Rainbow Network (DARN) Chairperson. "I don't need to remind you what happened in this country with apartheid, where some people said you have privilege and other people were punished because of how they were born. And this is exactly what they are doing now with the LGBTIQ communities."
Lerato Phalakatshela, Hate Crime Manager at OUT and spokesperson for the Love Not Hate campaign, said: "This is just a reminder to a lot of African countries that we are part of society, we are part of communities, we contribute. And this is a reminder that hate is not an African value. These countries need to know that in Africa we tolerate everyone, we respect diversity and there is love and humanity."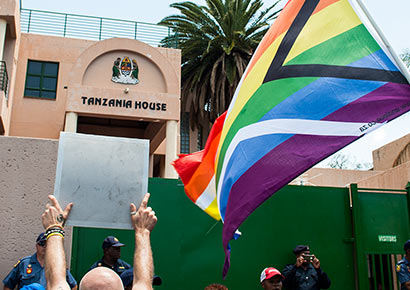 The marchers chanted "shame on you" as they walked to the Tanzanian High Commission. There, the organisers waited for a representative of the Tanzanian government to come out to accept a memorandum. The document calls on the country "to engage openly and securely with the LGBTIQ+ community to create understanding and respect in order for us to be free of the shackles of oppression."
The participants hung their heads in shame for a moment of silence to show their disdain for Tanzania's homophobia.
"These people are hiding behind their blinds, they have closed their blinds, they are ashamed of themselves!" said Bruce Walker, head of Pretoria Pride, after there was no response from officials. "We are going to show this embassy. Let's make sure that Tanzania feels the wrath of the LGBTIQ community. We will take away your money, we will boycott all your products, we will boycott all your travel. Tanzania, watch out! We are not going to shut up!"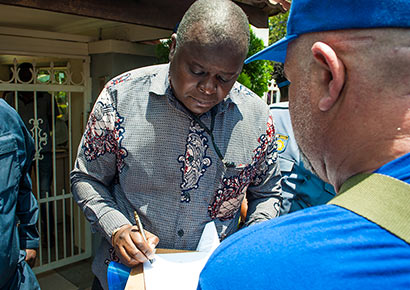 The marchers then moved on to the Ugandan High Commission where, to the organiser's surprise, a representative, Deputy Head of Mission, Ambassador Kintu Nyago, came out to accept a similar memorandum.
Helfrich said he was "amazed and astounded" by the turnout for the march. "The fact that Uganda arrived to accept the memorandum blows my mind, so that means that what we do has already taken effect and is changing the way people think."
Responding to criticism that the march was heavily branded as a DA event, Helfrich said the idea for the march came about because DA MP Michael Waters was part of the South African delegation at the IPU when the vote to ban LGBTIQ debate was taken.
"I then decided that because NGOs have financial struggles and I do have some budget, I would take on the monetary responsibility of organising today. I do feel that if I pay for it I deserve to have some marketing done." Helfrich added: "But I did invite other organisations and I have given every organisation the right to speak because this is an apolitical issue, this is a human rights and an LGBTIQ issue."