LGBTIQ refugees left bloodied after police attack in Kenya (Graphic)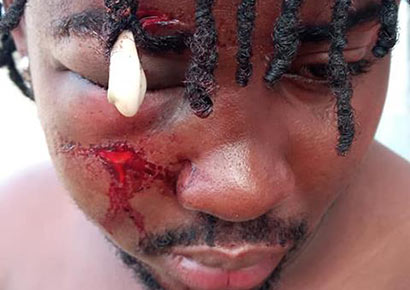 A group of LGBTIQ refugees who fled homophobic persecution to the notorious Kakuma Refugee Camp in Kenya have been viciously attacked, allegedly by the police.
According to reports from the victims, they were assaulted after holding a peaceful march against the ongoing homophobic violence and appalling living conditions they face in the camp.
The around 30 individuals attempted to hand over a petition to the UN Refugee Agency, UNHCR, which runs the facility, about their grievances. They claim that UNHCR officials called the police, who then allegedly beat the LGBTIQ refugees in the UNHCR compound.
"They made a circle around [the refugees], and they started beating every body with hand bar, wooden huge sticks, barbed wire and metallic poles plus pulling the guy's penis and [balls] saying 'we have a lot of pussy here why [do] you go for men,'" recounted one witness.
Another said that, "We where beaten inside the UNHCR compound in presence of the UNHCR protection team."
Moses Mbazira, the executive director of the LGBTIQ group in the camp, Refugee Flag Kakuma, was among those assaulted and injured. The refugees posted shocking images on Facebook of their bloody injuries.
A defiant Mbazira said the police had confiscated his phone and threatened him with further violence and even death if he posted photos and videos of the group's injuries. "I will die fighting. Many guys are crying, many guys have been injured, they have wounds everywhere, [but] they will not silence us!"
According to Melanie Nathan, executive director of the African Human Rights Coalition (African HRC), there have been six separate attacks on the LGBTIQ refugees in the camp in the past few weeks; the most recent the night before the peaceful demonstration.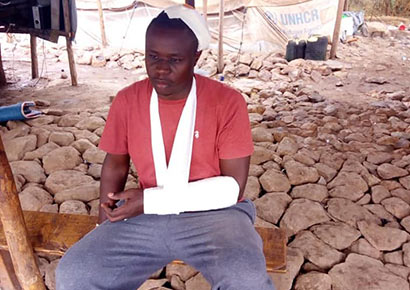 "UNHCR is not doing its job, according to the community there. They feel unsafe and as threatened as the day they escaped persecution in their home country," she wrote on her blog. Nathan has reached out to the UNHCR for an explanation and for their version of what occurred.
A petition has also been launched calling on UNHCR authorities to "guarantee the safety and protection of LGBTIQ refugees registered under their care" and to listen to their grievances.
The Kakuma Refugee Camp is said to be the third largest of its kind in the world, housing over 180 000 refugees. Of these, there are about 200 who openly identify as members of the LGBTIQ community, many of them having fled from persecution in Uganda.
In June, Refugee Flag Kakuma held what's believed to be the world's first LGBTIQ pride parade in a refugee camp. The event, however, was marred by violence and death threats from fellow refugees.