Namibia celebrates LGBTI+ Pride in Windhoek and Swakopmund (Pictures)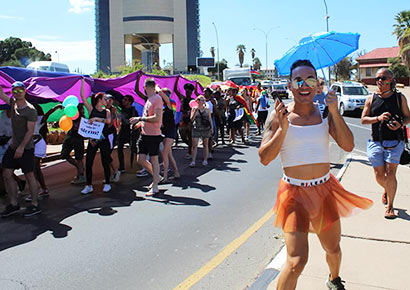 Dozens of people have marched in the cities of Windhoek and Swakopmund to assert the rights of the LGBTI+ community in Namibia.
On 1 December, World AIDS day, LGBTI+ Namibians, activists and many allies gathered at the Bank Windhoek Theatre School in Windhoek for the start of the city's annual Pride march.
Activist and sexual health advocate Aedin Mohrmann called it the "biggest pride event" to date in Namibia. The procession, held under the banner of #WeAreOne, was led by the Coded MCC Namibia bikers along with two Namibian Police Force escort cars, he said.
These were followed by a decorated float truck, a huge rainbow flag carried by community members and allies followed by a mobile HIV testing clinic from Walvis Bay Corridor Group. It was "a truly colourful and diverse group," Mohrmann noted.
Halfway during the march, the participants stopped at the National Independence Museum of Namibia for a moment of silence in solidarity with all LGBTI+ members lost to the AIDS crisis and with fellow African LGBTI+ people that live in regions with homophobic and transphobic regimes, such as Tanzania.
It was "a truly powerful moment, as we stood in silence under the statue of Namibia's own founding father Sam Nujoma, who himself has incited stigma, discrimination, and hate against the Namibian LGBTI+ community in the past, which still lingers today in the streets and comments sections of popular Namibian newspapers' social media pages," said Mohrmann.
After a mass group photo, the marchers proceeded to the Franco-Namibian Cultural Centre where they were treated to an LGBTI+ community market day with food stalls, drinks, face painting, free sexual health testing, and arts and crafts for sale. The day concluded with a party and live performances.
"It was a success all the way through, and most importantly love and acceptance was felt vibrating through the entire venue," said Mohrmann. "It is an exciting time to be a part of this movement in our country! We are on the cusp of big change regarding acceptance and diversity in Namibian society and starting up a whole new pink money sector in our economy."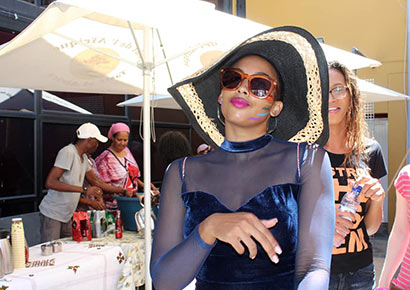 A more modest second #WeAreOne Pride march was also held in the coastal city of Swakopmund, in western Namibia, on Saturday 8 December. One of the organisers, Tatum Strauss, said it was unfortunate that they had little support from the municipality and the police, which hampered the event. "The turnout was small but it was a success," she told MambaOnline.
Under colonial era laws, consensual "sodomy" remains illegal in Namibia and could be used to prosecute gay men, although this is not believed to have happened since the country's independence in 1990. Same-sex couples also have no legal recognition.
Namibia's first LGBTI community and health centre was launched in May by Out-Right Namibia in Windhoek. In October, 21-year-old activist and law student Rivelino Reinecke was crowned Mr Gay Namibia 2018.
A 2016 UN Human Rights Committee report urged Namibia to adopt legislation explicitly prohibiting discrimination based on sexual orientation, including in the Labour Act, and to adopt hate crime legislation punishing homophobic and transphobic violence.
Below is a gallery of pictures of Windhoek Pride 2018, courtesy of Land of The Queers and Wings To Transcend Namibia.