This young queer entrepreneur from the EC won't be deterred by homophobia
Starting a business can be challenging. It can be even more difficult for the queer entrepreneur who's marginalised; living in an environment that constantly makes them feel unwelcome.
Lithemba Lento, a 22-year-old gay man from Fort Beaufort, is working to overcome that with the establishment of a picnic service in his rural community.
He aims to both uplift those around him and to also make a living. He spoke to MambaOnline about his venture and the challenges he's faced as an emerging queer entrepreneur.
After recently graduating for the second time with a Postgraduate Diploma in Media Management at Rhodes University, Lento launched 'Summer Picnic Services' with three other business partners.
Their offering includes setting up picnics with decorative material and providing catering in the form of food platters. Summer Picnic Services currently provides for three types of events; baby showers, birthday parties and standard picnics.
"The idea came about as I was procrastinating on Twitter during exams," Lento says. "I came across the idea and I was instantly inspired to bring to life in my hometown as I have never seen it being done before. Thereafter, I thought of ways and ideas in which to tailor the idea to appeal to the people of my hometown."
Fort Beaufort is a small town situated in the Eastern Cape, just outside of King William's Town. Growing up, Lento had a dream of establishing a business that would start off by serving his community but with aspirations of growing it to a much larger scale.
"At first, we had the challenge of marketing ourselves and speaking to the needs of the people. However, we've managed to mobilize clientele through the help of social media and recommendations. Other than that, we have managed to do an excellent job when delivering our services to our clients," says Lento.
As a gay man, Lento admits that growing up "different" amongst other boys was difficult and his community did perceive him as being atypical. But with affirmation and support from his family, he always felt loved.
"That was why I told myself I want to do something different growing up," he says. "I wanted to show and prove to my community that I too will grow up and amount to something, I mean I'm just starting out, but I can already see that people are showing interest in the business."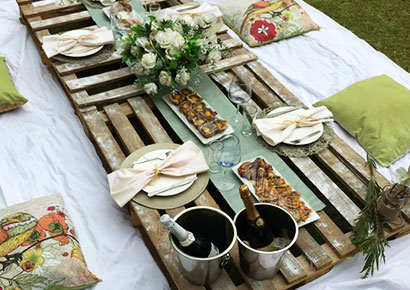 Lento is also hoping to inspire the youth, especially those who are members of the LGBTQIA+ community, to challenge themselves.
"As a queer person growing up in a conservative small town where my voice wasn't always heard, I hope to uplift black young queers in my community and show them that we have the potential and capabilities of making a mark in our very small town," he explains. "It may not be through entrepreneurship but I believe that every one of us has the skill, strength and potential to do great things and defy the negative perceptions society has about us. After all, we are much more than just 'moffies'."
The Eastern Cape is said to be one of the most homophobic or non-queer-friendly provinces in the country, with many reports and incidents of violence and threats against the LGBTQIA+ community occurring in the area. However, young individuals like Lento, will not be deterred by this reality.
"While homophobia works hard, we as the community need to work harder," he insists. "In fact, although many won't admit it, society wouldn't function without us queer people. They need us and that is the gag."