Homophobia in action: Man punched on camera for being gay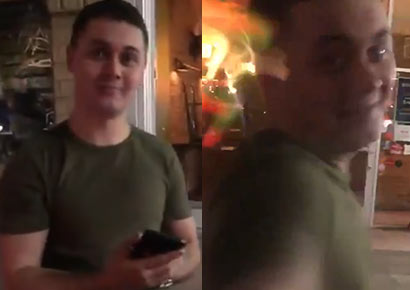 A video of what appears to be a homophobic individual shamelessly assaulting a Salt Lake City man for being gay has gone viral.
On Sunday, Salonge Knowles posted the clip on Twitter of him and his friends allegedly being attacked by the man, whom he described as drunk, on Saturday night.
The video shows the man asking Knowles, who is filming him with his phone, "Are you gay, though?" Knowles says that he is, and the man responds, "Then you're gay," before assaulting him. The individual, wearing a green-t-shirt, does all this calmly with a smirk on his face.
"Anyone know him?" asked Knowles in the post, adding, "The police are interested in having a chat with him."
In a subsequent Twitter post, Knowles said that the incident happened after he and his friends left a downtown bar. "It started with [the man] approaching us out of the blue and making homophobic and misogynistic comments towards our group," he said.
After the group asked the man to go away, he allegedly hit Knowles and shoved one of his girlfriends. "He then pulled out a knife and pointed it towards us while continuing to call us f*****s," said Knowles.
The individual finally ran off and got into his car when the group of friends called the police.
The Salt Lake City police shared the video on its Twitter feed and asked anyone with information about the case to come forward and contact the department.
— Salonge Knowles (@saltrejo) February 17, 2019