4.5% of adults in the United States identify as LGBT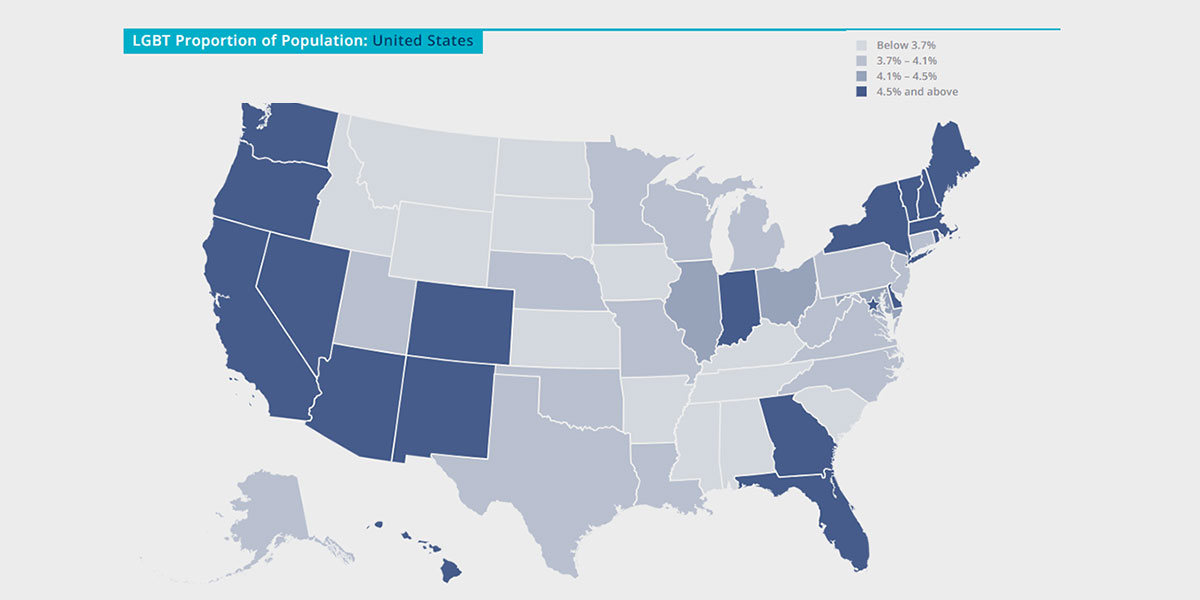 A comprehensive study offers a detailed overview of the LGBT community in the United States, estimating that 4.5% of adults, approximately 11.3 million people, identify as LGBT.
The majority of LGBT people (58%) are female and 29% of LGBT people over the age of 25 are raising children, said the Williams Institute at UCLA School of Law.
On a regional basis, Washington D.C. has the highest percentage (9.8%) of LGBT people and North Dakota has the lowest (2.7%).
Researchers analysed data from the Gallup Daily Tracking Survey to create a detailed look at the demographics and socioeconomic status of LGBT adults nationwide and by state.
Contrary to widespread belief, they found that many LGBT adults struggle economically: 27% are food insecure, compared to 15% of non-LGBT adults and 25% have household incomes below $24,000, compared to 18% of non-LGBT adults.
"Most LGBT people are not wealthy, and in fact, many LGBT people are low-income and are experiencing food insecurity. At minimum, policy-makers and service providers should work to ensure access to safety net programmes and services for LGBT people," said Kerith Conron, a Blachford-Cooper Distinguished Scholar and Research Director at the Williams Institute.
Other key findings include:
• LGBT people in the U.S. are racially and ethnically diverse: White (58%), Latino/a (21%), Black (12%), Asian (2%), American Indian and Alaska Native (1%), Native Hawaiian or other Pacific Islander (1%) and more than one race (5%).
• Over half of LGBT adults (56%) are under the age of 35, compared to 28% of non-LGBT adults.
• Just 1 in 4 LGBT adults (23%) are age 50 or older, compared to nearly half (47%) of non-LGBT adults.
• Washington State has the highest percentage of LGBT women (63%), while Washington D.C. has the highest percentage of LGBT men (65%).
• States with the highest unemployment rates among LGBT people are Wyoming (17%), Alaska (15%), South Dakota (15%) and West Virginia (14%). Unemployment rates in those states are 2 to 5 times lower for non-LGBT adults: Wyoming (4%), Alaska (5%), South Dakota (3%) and West Virginia (7%).
"These findings remind us that LGBT people are young and old, people of colour and white, they are parents, and they live in every state of the union," added Conron.