WQMD – a new web series about coming out the closet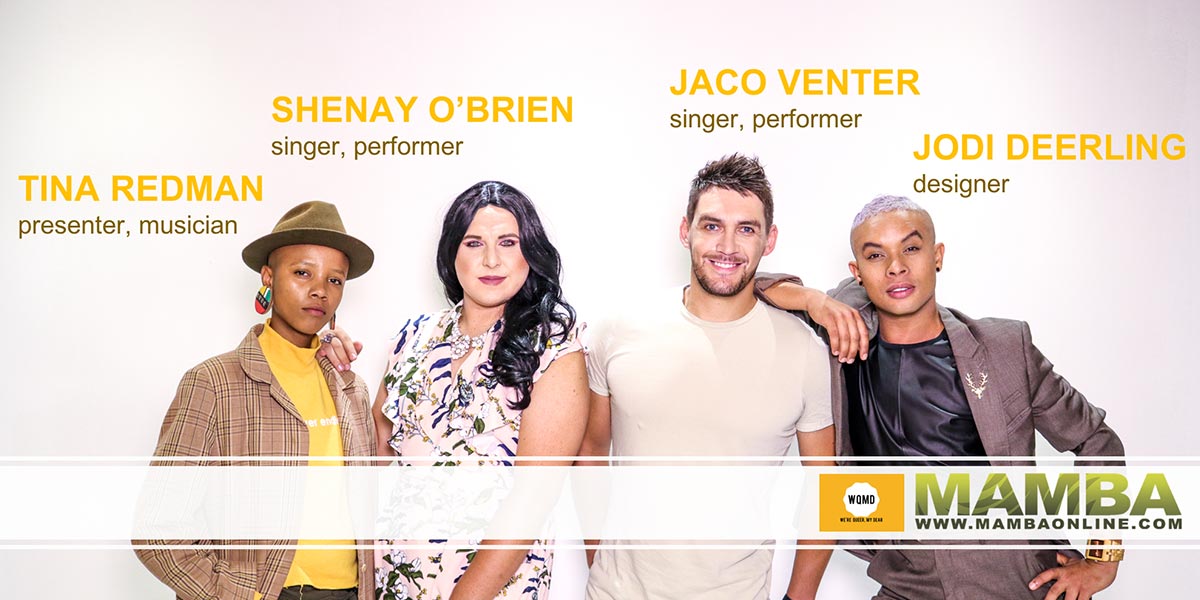 Coming out the "closet" is different for everyone. You will be confronted with questions and confusion regarding religion, family acceptance, bullying, fitting in, stereotyping and equality. WQMD – aka We're Queer My Dear – is a new online series launching in April 2019 and premiering on MambaOnline, that aims to help.
It consists of a panel of celebrities and social media influencers who all fall within the LGBTIQ+ community. Every week they will be discussing various topics: a quick 1,2,3 guide in helping you to come out, step up and live YOUR life to the fullest. With some weekly topics they will also invite specialists in certain fields, e.g. religion, to give their input and clarity and cover as much information on the specified topic.
The series and concept was created by Shenay O'Brien with overseeing director, Jennis Williamson, from Life in a Bulb Productions. Both are passionate individuals who want to make a change in their communities.
What sparked this project for O'Brien and Williamson was the need to open healthy discussions within South African society and to help and assist those who are in need of guidance and support; hearing real life stories of individuals living openly and publicly. "We would have loved to have something like this when we we're trying to find our feet and come to terms with our sexuality," says Williamson.
It's 2019 and the suicide rate among LGBTIQ+ individuals is at an all-time high. This series will not only help and assist LGBTIQ+ communities but also give broader society a look at the struggles, obstacles and challenges we face on a daily basis as well as embracing, accepting and celebrating those who are different, unique and living their truth, despite the constant criticism.
"We want to help others come out and be their authentic selves but we also want to inspire others, even if you do not fall under the LGBTIQ+ umbrella, to come out and support and take a stand," says O'Brien. "We all believe this project can change the perceptions and stigmas society has become accustomed to and we would encourage the public to get involved and share our message."
The WQMD panel
Shenay O'Brien
One of SA's premier drag artists, she made South African history in 2015 by becoming the first drag artist to participate in the hit reality television show, Idols SA. She has been a spokesperson for the LGBTIQ+ community by bringing awareness and contributing to various aspects through her talents and performances. She loves inspiring and educating society and uplifting LGBTIQ+ people. She hopes that this project will give others the courage to be themselves and to live their lives unapologetically.
Jaco Venter
Jaco is a 29-year-old accountant and entrepreneur from Pretoria. Since the age of 14 he knew he felt different but ignored his feelings and hoped it was just a phase that would pass. At 21, he realised his feelings only grew stronger despite them being suppressed. Eventually, after years of denial and uncertainty about how others would react, he embraced his true self. He is now engaged, happily in love and soon to be married to his once best friend, Wian. Jaco is excited for WQMD to inspire others to accept their difference and to avoid the struggle and pain he went through.
Tina Redman
Actor, presenter, beatboxer and LGBTIQ+ activist, Tina has made various appearances on television (Reno Race) and in multiple advertisements for the likes of Ford and most recently, Cadbury. One of her biggest role models is former Yo-TV presenter, Sade, who showed her that being queer and a person of colour on television is possible. This helped and spurred her to be authentic and relatable in everything she does. Tina is proud to be part of WQMD and believes that SA needs more queer opportunities to learn from each other and grow together. She knows it's a huge responsibility to speak for others but hopes to give each one of the viewers the courage to also speak out and embrace and love every and all parts of themselves.
Jodi Deerling
Born and raised in the Eastern Cape, Jodi is an entrepreneur, performer and designer. He has been involved in theatre, television and radio and appeared in various advertisements. He is an energetic, enigmatic personality that loves living his ultimate "bizazzed" life. Jodi wants to make a difference and leave behind a legacy. He wants to empower others to reach their full potential and live their lives with no regret. Jodi believes WQMD has the potential to take SA by storm and give a voice to those who are in need of support.
Each episode of WQMD will premiere right here on MambaOnline.com, the project's official media partner; so stayed tuned! Watch the official promo video below.
For any enquiries or to get involved, contact werequeermydear@gmail.com, join the WQMD social media platforms (Facebook & Instagram) and follow the journey on MambaOnline.com.