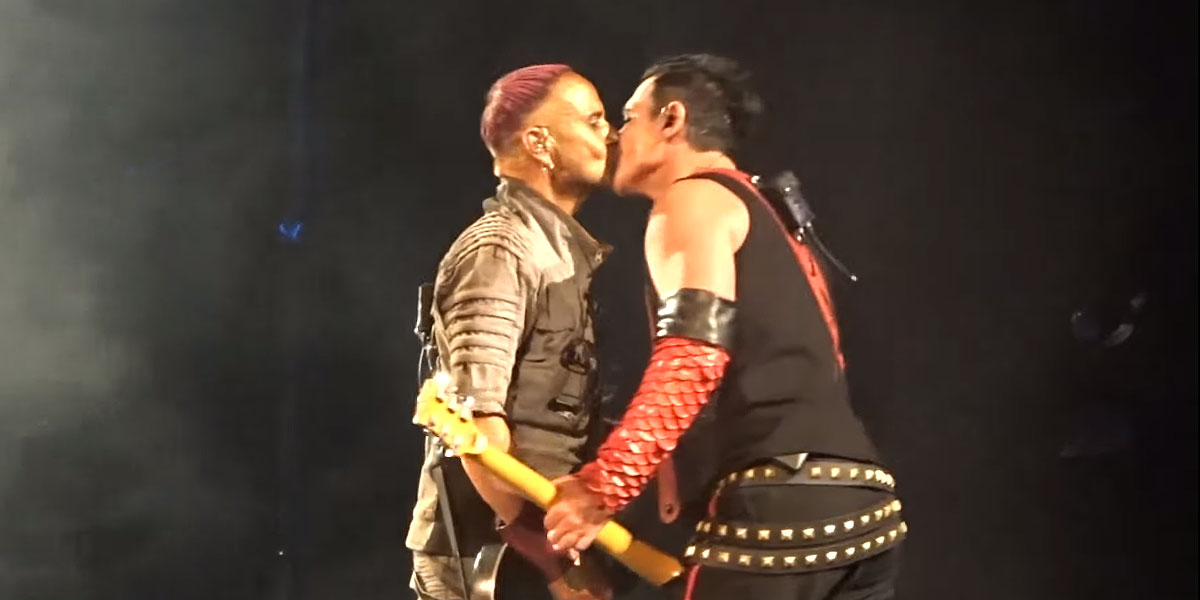 Two members of German heavy metal band Rammstein have shown their solidarity with Russia's LGBTQ community with a same-sex kiss in Moscow.
Guitarists Paul Landers and Richard Kruspe risked being arrested for the onstage lip-lock while performing the song Aüslander during a concert on Tuesday in the Russian capital.
The band posted a picture of the smooch at Luzhniki Stadium on their Instagram page with the caption: "Russia, we love you!" The moment was also captured on video and shared online.
The two men have previously exchanged a kiss in other shows in Europe and have been dubbed "Paulchard" by some fans.
In Poland, which is facing growing homophobia, such as right-wing violence against Pride events, the band recently waved a rainbow flag in support of sexual and gender diversity.
Rammstein, who were formed in Berlin in 1994, have repeatedly asserted over the years that their views are liberal and left-leaning despite their dark and militaristic imagery and lyrics.
While the same-sex kiss is perhaps less of a bold statement in many countries in Europe, it is especially significant in Russia, which has enacted a so-called 'gay propaganda' law that could have led to the guitarists' arrest.
Signed in 2013 by President Vladimir Putin, the federal measure prohibits the promotion of "non-traditional" sexual relationships to minors. The law has been used to ban LGBTQ Pride events and demonstrations and to restrict the positive depiction of LGBTQ people in public, on television, in print and on the internet.
It was revealed this week that the law is further being applied to same-sex families following news that a gay couple were forced to flee Russia with their adopted children, over threats that they could be taken away from them.
Russian LGBTQ activist Yelena Grigoryeva was also brutally murdered in St Petersburg last weekend after being featured on a website that called for violence against LGBTQ people.