Donald Molosi on 2064 – Botswana's first queer film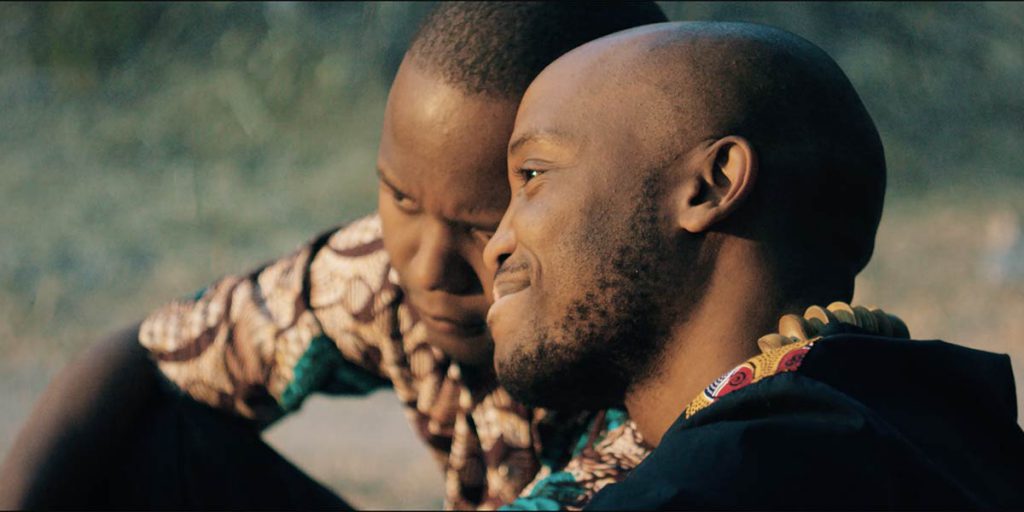 2064 is said to be the first queer film from Botswana. We spoke to actor and producer Donald Molosi about making the landmark sci-fi-short.
Directed by Joseph Adesunloye, 2064 was filmed on location in Botswana and Zimbabwe and its release follows last year's decriminalisation of homosexuality in Botswana, which the government is currently challenging in the courts.
The film is set in a future Africa devastated by population growth, famine and mass internal displacement. In a bid to deal with the chaos, a federation of African States is set up. One of its first initiatives is an annual cull of four million men to save the environment.
It's in the midst of this frightening scenario that we find a queer love story between two men, one of whom is played by Donald Molosi, alongside South African actor Thabo Rametsi.
Molosi is an award-winning Motswana actor, writer and playwright who has a Master of Arts degree in Theatre and Performance Studies from the University of California Santa Barbara. He's performed off-Broadway (the first Motswana to do so), appeared in numerous international films, and published a collection of his original plays.
Molosi spoke to MambaOnline about 2064 and what it means to be an LGBTQ ally and a socially aware artist.
How did you get involved with 2064?
Director Joseph Adesunloye and I began speaking about collaboration, and then once we had established that we would want the story to be shot in Botswana, he began to write the story. I am one of the producers in the film and I am also happy to be one of the lead actors in telling this compelling dystopian story through the eyes of a queer couple on the banks of the Okavango.
Why was this a project you wanted to be part of?
I wanted to tell a story that would challenge me as an actor. I wanted to work with Joseph and in the end, we produced a story I am very proud of. When we were filming we were aware that the relationship we were portraying was illegal in Botswana. I am happy that 2064 now comes out into a Botswana where consensual same-sex relationships between adults have been decriminalised by the Botswana High Court.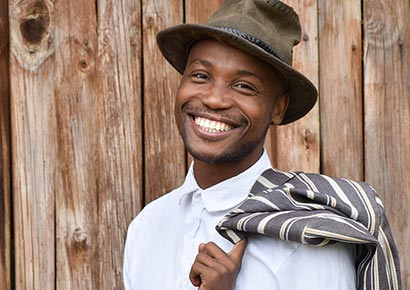 When you came on board as one of the actors, you also insisted on becoming a producer. Why was that important to you?
It is important to me because then I get to have more of a say on the aesthetic of the film and so on. Beyond that, it is what we actors have to begin doing if we are going to be more involved in what stories we tell.
What were the challenges you faced in making the film? Did you face any opposition because of the subject matter?
Sourcing the funding for the film was hard because the film industry in Botswana is nascent. Filming in the Okavango itself was also arduous on the body in 50-degree celsius weather. Fortunately, there was no opposition that I remember us facing because of the subject matter. Batswana have always been more progressive on their ideas of gender and sexuality even before the High Court ruling to allow same-sex relationships.
2064 features two queer characters but it's not about being queer per se or overtly about persecution for being queer. Was this a purposeful decision?
The story that Joseph wanted to tell is about overpopulation in Africa that leads to drastic political changes. In all this, the environmental cost of human activity is explored. We witness all this conversation through the eyes of a queer couple. It was intentional to not spectacularise the queerness but rather to ask of the story to make queerness ordinary. Otherwise, we run the risk of necessarily conflating queer love stories with queer violence.
The sci-fi genre is not one that is often associated with African filmmaking. What are your thoughts about the power of this genre?
It is a tragedy and it makes me sad. Africa has the most amazing stories in that genre, throughout history. Part of my growing up in a village in Botswana was to hear the most chilling sci-fi stories of sorcerers flying on needles and using a breadloaf as a bus. I believe, very strongly, that this is a case of assigning demeaning language to Africans when they do sci-fi: when white people do it, it is called sci-fi and when we do it then it is called magical realism – that is condescension upon the African storyteller.
What do you think the film's dystopian setting says about the mood of the world, and Africa in particular, right now? Do you think the film is hopeful about our future? Are you hopeful?
I think that the film shows current Africa as is – Africa is being led by people who believe that Africa is for sale and that is a dystopian tragedy. The presence of foreign powers in Africa is still unchecked and exploitative. The film is hopeful about the future because it presents a possible bad future that we can prevent. It challenges us to be hopeful and yes, if Africans are willing to break colonial chains, I am hopeful.
How important is it for Africans to be making our own queer films?
It is paramount. Queerness is not the same story around the world and it should never be. Africans also deserve to tell their queer stories through African bodies. The time is up for looking to foreign industries to badly portray Africans on film. We portray ourselves on film now.
How do you feel about the fact the Botswana government is appealing the ruling that decriminalised homosexuality?
I am disappointed, sad and furious. I think that it was a significant example for Africa by the High Court but I see my country undercutting its own progress by having a government in power that still wants to reinstate homophobia as law. I am ashamed that they would get in the way of human rights. History will judge this administration appropriately harshly for that.
As an ally, why does the equality of queer people matter to you? Why should it matter to everyone?
I refuse to identify by gender or sexuality until the Botswana government stops protesting the ruling of the High Court. I am an ally and that is my protest in the meantime. The rights of queer people are human rights – we need to decolonise our ideas of gender and sexuality and see where to decolonise. That should matter to everyone who is sensible.
Why do you think it is important that the film was shot on location in Botswana and Zimbabwe?
I think it shows the cinematic beauty that can only be captured in Botswana and Zimbabwe. It is refreshing to hear of those conservative countries being the backdrop of a queer film. I also have Zimbabwean and Botswana blood and it was important for me to ensure that both of my heritages don't miss out on this historic moment.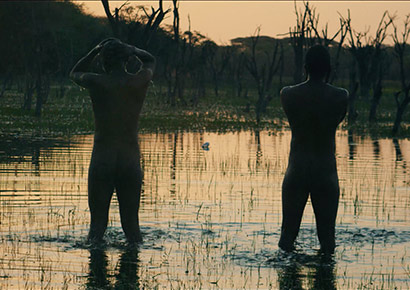 How do you think the film can play a part in changing hearts and minds about queer people in Botswana?
I think it has already begun the conversation around representation. People are starting to question whether their exclusion from stories simply because they are queer is helping anyone.
As a successful actor, writer and playwright, how important is it to you to use your work and platform to address social and political issues?
It is crucial. I am completely dedicated.
2064 is being screened as part of RapidLion – The South African International Film Festival, which runs until 15 March at the Market Theatre in Johannesburg. Other queer films to look out for are Lolo, by Director Leandro Goddinho from Germany, and Canada's Queer Destiny, by David Wayne, Jen Sunqshine and Kendell Yan. For more information, visit www.rapidlion.co.za and get your tickets at webtickets.co.za or at the door. Students and pensioners get free entry.