Cape Town hate preacher Oscar Bougardt given platform for shocking anti-LGBTIQ abuse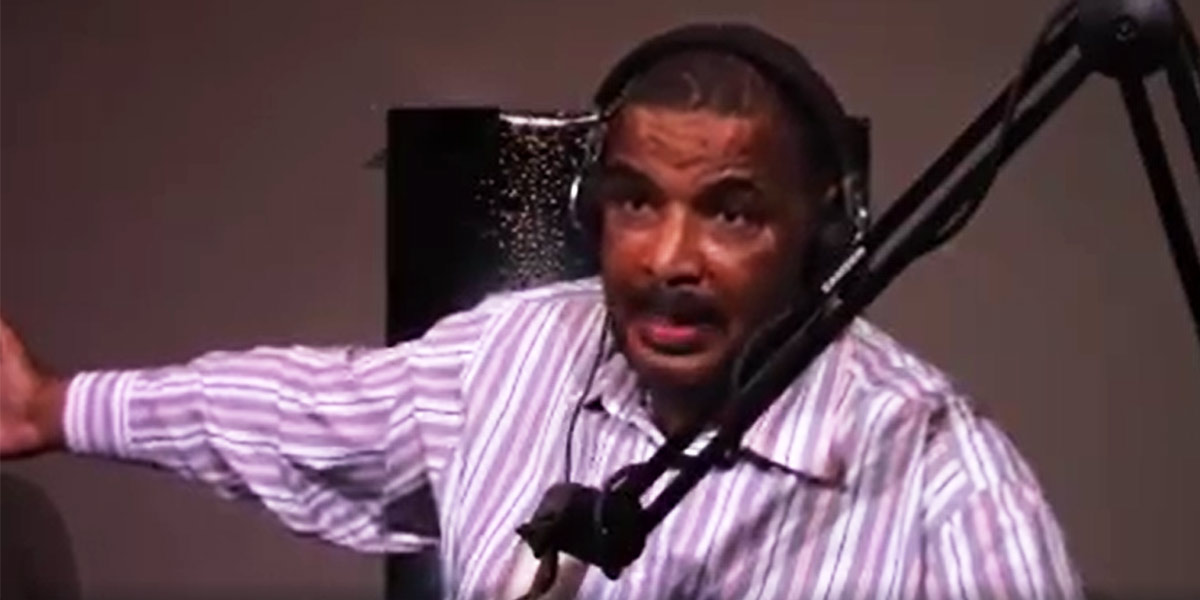 Questions are being asked about the appropriateness of an interview with notorious Christian hate pastor Oscar Bougardt in which he was allowed to again spew appalling vitriol against LGBTIQ people.
Posted recently on Facebook, the inaugural Cape Flats Talk online show saw host and controversial community activist Fadiel Adams speak to Bougardt about his bigoted views on homosexuality, the LGBTIQ community and feminism.
Adams, a heterosexual man, at times attempted (weakly) to rebut the Cape Town preacher's twisted statements but also often laughed and joked along with him.
Bougardt was able to make numerous false, dehumanising and hateful comments without any informed counter-arguments. Just a few of his many homophobic, transphobic and sexist assertions included:
"Homosexuality, lesbianism is a choice. It's a choice we make. Now this world, our government, our country, wants to force their wicked ways on us and on our children. How the hell can you, you're a man and I'm a man, call me your husband? Are you sick?"
On same-sex parents: "How can you teach a child the right way when you yourself are confused. It's not right."
"We need to say to these [LGBTIQ] people; your lifestyle choices are wrong. Homosexuality is a curse, it is wrong, it's unbiblical, it's unAfrican, hulle is morsig [they are filthy]. They are from the pit of hell! And as far as I am concerned each and every one of them can go burn in hell."
On making the school curriculum more inclusive: "This what the homosexuals want to do; they want to confuse our children. That is why they want to be in schools."
Bougardt (falsely) asserted that "99% of paedophiles and child abusers are homosexuals. The Roman Catholic Church is a haven for homos! And you can post that!"
Claimed that members of the LGBTIQ community threatened to rape his son.
He said gay people get sick and die from AIDS because they use their anuses in sex and "play with each other's filth".
"I believe that a guy like [Archbishop] Desmond Tutu is from the pit of hell. He's going to burn with his dress on. He is confused because his own daughter is a lesbian!"
"I don't believe that [women are equal to men]. Even if my wife earns more money than me, she still needs to submit to me because, this is scriptural, I am the head of my house."
"Do you know that there is more men that are abused than women? Do you know that women rape men?"
Adams posted along with the interview "I don't agree with anything here. Just so we're all clear", presumably to offer some defence against a possible backlash. But was this enough?
Not according to Roché Kester, Hate Crimes Manager at OUT LGBT Well-being, who believes that Adams was wholly irresponsible. She told MambaOnline that at the very least he should have ensured that a representative from the LGBTIQ community was part of the discussion.
"An opportunity was not given for civil society organisations or NGOs to provide an alternative view to Bougard's," said Kester. "This could have been used as a platform to educate, inform and dismantle negative stereotypes about the LGBTIQ community, however, it was a one-sided stance with little intervention from the host."
Bougardt was found guilty of hate speech by the Western Cape High Court in May 2018 and was given a 30-day jail sentence, suspended for five years. This followed years of abuse on social media and in the press against LGBTIQ people, including calling for their execution and imprisonment.
The defiant cleric has not been deterred by the judgement and continues to make anti-LGBTIQ comments on his Facebook page and in the media. In October 2019, thanks to the SA Human Rights Commission, he was served with court papers for violating the terms of the hate speech conviction, which he is planning to oppose.
"Bougardt dehumanises the LGBTIQ community by using derogatory language and dismissing the validity of the diversity in sexual orientation and gender identities. His words cause harm, not only to his church congregation but to the wider public, perpetuating negative and false information about the LGBTIQ community," said Kester.
"This kind of hate speech has far-reaching consequences that can include discrimination and violence towards the LGBTIQ community." She added that Love Not Hate will again take the matter up with the SA Human Rights Commission "to ensure that Bougardt bears the consequences of contravening the court order that prohibits him from relaying more hate speech against the LGBTIQ community."
It's not known how often the Cape Flats Talk interview has been viewed on Facebook but it has been shared at least 146 times. MambaOnline was unsuccessful in reaching Fadiel Adams for his comment.