A new era: EXIT newspaper under new ownership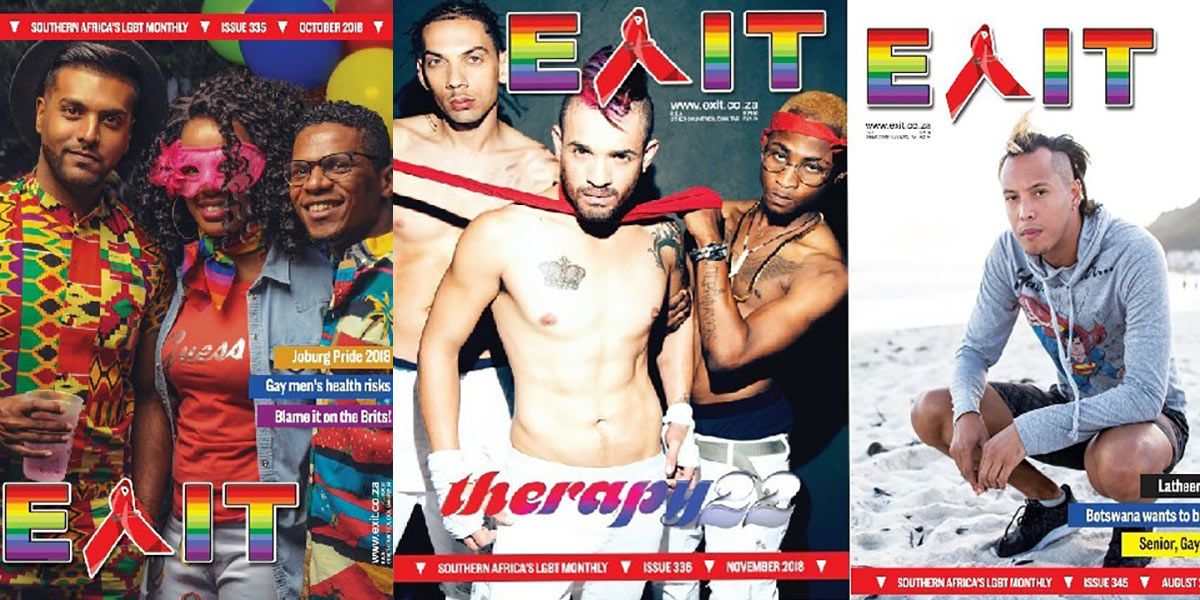 EXIT, the longest-running LGBTQ publication in South Africa, has been sold to a new team that has exciting plans for its future.
Significantly, for the first time in its almost four-decade-long history, the iconic newspaper is being led by two individuals of colour, Gontse Seakamela and Petros Abraham.
Gavin Hayward, who helmed the iconic publication since 1995, officially passed the baton on to the duo on the 1st of June.
Hayward, who was an English lecturer before taking on the role of EXIT's editor, told MambaOnline that it was time to move on. "I have run EXIT for a long time, and it needs some younger people to inject fresh life into it," he said.
EXIT started life as the newsletter of GASA (the Gay Association of South Africa), then briefly became Link/Skakel under Dawid Moolman before being rebranded as EXIT by Dawid and Henk Botha. It was then run by Gerry Davidson before Hayward took over.
Describing himself as "an elder in the LGBTI community" Hayward says he will remain active in the community. While slowing down, he will also help his partner with his business and may do some editing and online teaching on the side.
"It is a complete coincidence that this process of transformation comes to EXIT at the time when not only South Africa but the entire world is going through change in the form of the COVID19 pandemic and the Black Lives Matter protests," the new owners noted in a statement.
"With South Africa under strict lockdown conditions since April 2020, our publication was unprinted for two consecutive months, a first in its 40-year history. Now that we are in level 3 and the regulations have been eased, we are hard at work and have had to 'hit the ground running' to ensure that EXIT is 'resuscitated'," said Abraham.
"We are not taking the challenge lightly. We come with extensive business and project management and legal background between the two of us. We are entrepreneurs and have what it takes to turn a business around. However, EXIT is going to need the support of its network of stakeholders now more than ever before," he continued.
While acknowledging the closure of print media houses in recent months, the new owners believe that print still has great relevance. Nevertheless, they plan to ensure a substantial digital presence (website and social media), podcasting and eventually broadcasting.
"With each edition, our promise to our readers is that stories have been thoroughly researched and curated, so please take your time to read it and engage a little deeper with us," said Seakamela.
"Digital and podcasting will allow us to share immediately relevant stories with the community. We will also investigate developing news and want our readers to engage and debate with us as stories develop. We would love to hear their take on these topics, so again share your thoughts, let us have a little fun but, when necessary, have the serious conversations too."
As a first step, the EXIT team is revamping its website with a soft launch' on 27 June which is 'Pride Day' in the northern hemisphere. There will be further developments in the next few months as the transition period continues.
"To our readers we say, watch this space and join us on this evolution. We are, after all, a community and we are in this together," added Seakamela and Abraham.
You can follow EXIT on Facebook, Twitter and Instagram.