Two LGBTQ couples in the time of Covid-19
You might expect that couples enjoy being together and that the lockdown has presented them with the opportunity to bond and reignite their spark – but this might not be the case for everyone.
The initial lockdown in South Africa as a response to the Covid-19 pandemic commenced on 26 March and, currently, we are in level 3; a reduction from the initial level 5 that was close to a total shutdown.
MambaOnline spoke to two LGBTQ couples who shared some of their experiences during this challenging period.
Samukezi and Malerato Mrubula-Ngwenya from Polokwane were deeply worried when the lockdown began; concerned about their livelihoods individually and as a couple and family.
"My first reaction was panic and fear as I didn't know what was going to happen. But after a while, I just made peace with everything and decided to limit my consumption of the news. And I decided I would bond with my wife and son," says Malerato, a Vehicle Sales Executive.
The Mrubula-Ngwenywas got married in a lavish spring wedding in 2019 that trended on social media after the two wives wore beautiful white wedding gowns.
The couple admit that the lockdown has forced them to pause and throw many of their plans out the window. "Samu graduated and we could not have a celebration," says Malerato, while Samu adds: "We had planned a vacation, which we had to halt and Malerato's birthday happened during the lockdown and we also could not have a celebration for that."
Cape Town-based Ricki Kgositau-Kanza and Beltony "Tony" Kanza usually lead an unconventional and busy life. Ricki is the Executive Director of the NGO Accountability International with an office in Cape Town but responsibilities in various parts of the world, while Tony is an entrepreneur and student who runs his own fashion business called Maison de Kanza.
The Botswana-born Ricki is also known for her landmark 2017 court case in which she successfully sued the Botswana government to be legally recognised as a woman.
"When the President announced that we would be in lockdown I was travelling to Botswana and I was unsure if I would be allowed to fly back to Cape Town. I told Tony I was afraid they would not allow me to fly back. I knew for sure that I wanted to be home with my husband during the lockdown," says Ricki.
Both couples reflected on their adjustment to working from home and having meetings through virtual tools such as Zoom and Microsoft Teams. "I was preparing to host a launch of my fashion line and the lockdown forced me to stop that as I could not buy fabrics and other items I needed to produce all the garments. And I was home – not working, losing business and money and not going to school," Beltony reveals.
"As someone who travels a lot for work, the blessing in disguise was that I was home with my husband, which doesn't happen a lot," notes Ricki with a chuckle.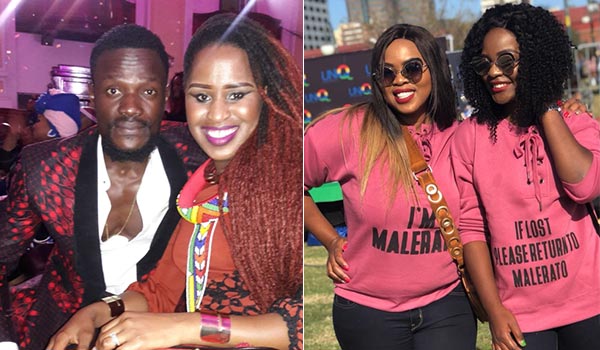 The lockdown period has also meant that the couples have been present in the smaller and bigger events of their live. Gender Studies Lecturer Samukezi, for example, sadly lost her mother during the lockdown.
"It was hard, and the restrictions on movement made it harder. Driving down to Cape Town for the funeral was not easy and the funeral was a short and quick service, which is not what I would have wished for, as my mother was loved and adored by many," she says.
Malerato adds: "After the funeral, we came back and my employer put a number of my colleagues on retrenchment notice and that scared us both – the financial impact of it all."
Ricki and Toni admit that while they enjoy being home together and having this time to bond, their routine has been affected and the romantic activities they usually engaged in have been disrupted. They've had to adjust and find ways to keep the romance alive, even though they are home all the time.
Both couples agree that, despite the emotional and mental strain of lockdown, it has brought them even closer together.
"I am glad that my wife is here, and she gets to cook for me, which I enjoy and she doesn't get to do when she travels for work," says Beltony. Ricki confirms that "It has been lovely to be home, cooking for my husband and to see him at work, working on garments and building his business."
The Mrubula-Ngwenyas have also been making the best of it. "We have been spending a lot of time as a family. Waking up and enjoying breakfast with my wife and son daily has been lovely," says Samu.
"We got to do stuff together; online exercises, cook and bake with our son, watch series and movies and rest which we didn't do before because of how busy life was. So, even if the time was brought on by bad circumstances, it was much needed. We are grateful for it."
But it hasn't always been a bed of roses. The couples have also had to discover new ways of resolving disagreements. "We have learned better ways to deal with conflict because even when you argue, you can't leave the house; you have to argue and work it out," explains Ricki.
For these loving couples, the lockdown has been both a challenge and an opportunity, but they show that a positive support system can make all the difference. That's true for those of us not in romantic relationships; it remains important to build on the friendship, community, social and family bonds that we have (whether online or in the physical world) in these difficult times.