Tragic suicide end for South African co-founder of Gaydar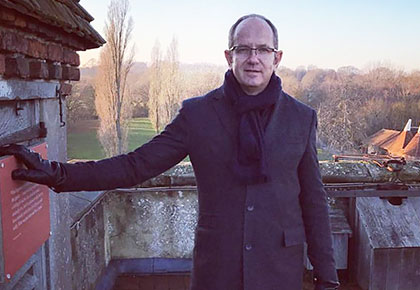 Seemingly mimicking his late partner, the co-founder of the revolutionary Gaydar gay dating site, Henry Badenhorst, has died, reportedly after falling to his death in Sandton.
It's believed that Badenhorst, 51, took his own life after jumping from the 23rd floor of the Michaelangelo Towers hotel in Johannesburg.
His shocking death was witnessed by motorists and passersby in the busy business hub, who reported a man hitting a glass awning before falling onto the back of a motor car.
In a post on its Facebook page, the company wrote: "To Henry. The man who revolutionised gay dating. Our founder and our friend. Thank you for dreaming. You will be forever in our hearts. Gaydar xxx"
Tragically, Badenhorst's death mirrors that of his former romantic partner Gary Frisch, with whom he founded Gaydar.
Frisch too plunged to his death when he fell from the eighth floor of his luxury Battersea, London, apartment in February 2007.
His death, however, was ruled a "misadventure" and not suicide as it was believed that he jumped from the balcony while under the influence of drugs, specifically ketamine.
Despite having ended their personal relationship the year before, it was reported that Badenhorst never fully recovered from Frisch's death.
"It was the worst day of my life," Badenhorst told The Guardian in 2009. "I had shared a life with him for 15 years; I absolutely loved him."
Both South Africans, Badenhorst and Frisch founded Gaydar in Cape Town in 1999 after a Dutch friend complained that he was too busy to look for a new boyfriend.
"Gaydar started as something we did on the side," said Badenhorst. "We didn't realise what we were creating, but then people started coming to the site."
He also spoke about his conservative Afrikaans upbringing in Johannesburg: "When I was a teenager. I knew I was gay but I thought I was the only one; but these days boys go online and see there are plenty of gay men."
He added: "I had to go to a church that believes it's a sin to be gay and you'll burn in hell for it, so for years I struggled with why the church wouldn't accept me for who I was."
The site, with a peak of 5 million users, went on to have a major impact on the global gay community, offering a powerful new platform for men, and later women, to meet – especially in countries where homosexuality was taboo or illegal.
Badenhorst and Frisch, who moved to London in 1997, were named among the most-influential gay business leaders in the UK by the Independent on Sunday newspaper in 2006. In May 2013, Gaydar was sold to Charlie Parsons, a British television producer.
The Gaydar site and app remain among the most popular gay dating services in the world, especially for users in South Africa, the United Kingdom, Australia and Ireland.