Joshua Rush speaks about playing Disney Channel's first gay character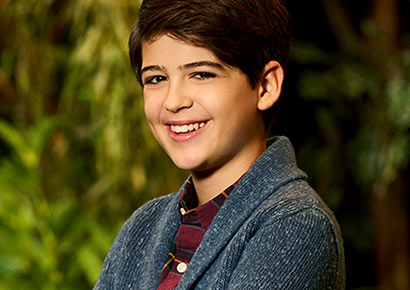 Last year, teen Disney show Andi Mack made headlines, and got banned across Africa, after Joshua Rush's character, Cyrus Goodman, came out as gay.
In the first episode of the second season, shown in the US in October, Cyrus bravely told his friend Buffy (Sofia Wylie) that he had feelings for another boy.
This meant that Cyrus became the first ever recurring gay character on the Disney Channel (a lesbian couple appeared in an episode of Good Luck Charlie in 2014). Rush has now spoken out about the challenges of the role.
"I feel the pressure, and I also don't," the 16-year-old actor told PEOPLE Now. "I think the most important thing for me when I got this part was to do it right."
Rush explained: "I knew that I wanted to do it justice, because I knew that people were gonna end up seeing this and being like, 'Wow that's me, I identify with that [and] I can be who I am now,' but I also wanted to make sure that it's not all-encompassing. Like that's not all of Cyrus' personality."
The show went on to recently be nominated for a GLAAD Media Award in the category of Outstanding Kids & Family Programming.
"With more and more young people coming out as LGBTQ, Andi Mack is reflecting the lives and lived experiences of so many LGBTQ youth around the country," said Sarah Kate Ellis, President and CEO of GLAAD. "Television reflects the real life world and today that includes LGBTQ youth who deserve to see their lives depicted on their favourite shows."
While the series has broken new ground, it's something that African teens have been deprived from seeing for themselves. In November, Kenya's homophobic censors forced pay-TV network MultiChoice to ban Andi Mack in their country.
The Kenya Film Classification Board (KFCB) claimed that the show is a "deliberate glorification of homosexuality" and "is, without doubt, part of a wider scheme by the media to promote the Lesbian Gay, Bisexual and Transgender (LGBTQ) agenda among children through TV programs".
Because the Disney Channel is broadcast on a single feed across the continent by MultiChoice, all other African viewers, including those in South Africa, were barred from seeing Andi Mack.
The Walt Disney Company Africa commented at the time: "Andi Mack will not be broadcast through DStv, however we are exploring alternative ways to make the series available to its fans in South Africa."