Britney Spears honoured for her LGBTQ support (Watch)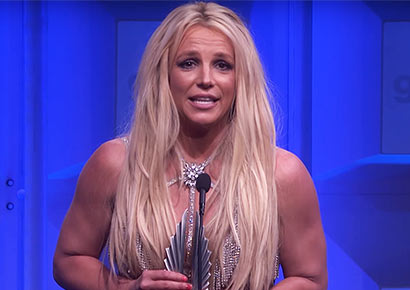 Ricky Martin has presented pop icon Britney Spears with GLAAD's Vanguard Award at the 29th Annual GLAAD Media Awards in Los Angeles.
The star was recognised on Thursday for making a significant difference in promoting equality and acceptance of LGBTQ people.
Introducing Spears as "our ally", Martin praised the singer for her support of the community.
"She could be one of those stars with a huge LGBTQ following that says nothing and does nothing, but instead she uses her platform to remind audiences around the globe that intolerance is unacceptable," said Martin.
Spears took to the stage to accept the award and deliver a short but heartfelt speech.
"I feel like our society has always put such an emphasis on what's 'normal' and to be different is unusual or seen as strange. But to be accepted unconditionally and to be able to express yourself as an individual through art is such a blessing," said the performer.
"Events like this show the world that we are not alone. We can all join hands together and know that we are all beautiful. And we can lift each other up and show our gifts without hesitation."
She added that motherhood and her LGBTQ fan base have shown her "what it means to be loved unconditionally".
Spears has consistently stood up for LGBTQ youth on GLAAD's annual anti-bullying Spirit Day, including releasing a support video, meeting with LGBTQ fans, and providing anti-bullying materials to concertgoers.
She also appeared on the song Hands, to remember the 49 lives taken in the Orlando Pulse nightclub shooting. In 2017, Spears was among 140 leading entertainers to speak out in an open letter against two anti-LGBTQ bills in Texas.
Thursday's ceremony also saw a number of other awards being presented to individuals or media that have made a positive impact on the LGBTQ community.
Actress, producer and writer, Lena Waithe, took home the award for Outstanding Individual Episode for her work on the Thanksgiving episode of the Netflix series Master of None. which was based on her own coming out. She used her acceptance speech to call for unity within the LGBTQ community.
"I feel like sometimes we can be a little segregated, you know what I mean? You have the wealthy gays over here, the gays on a budget over there. You know, you got the asexual people and their group and that crew. We need to be united. Because Laverne Cox's struggle may look different than mine, but the pain we feel is the same," said Waithe.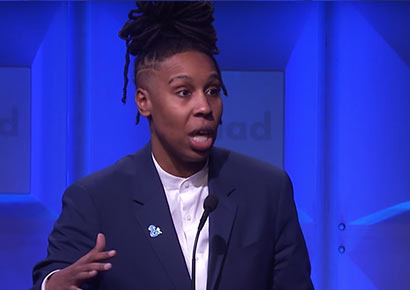 "We have to support each other, we have to talk to each other, we have to educate each other about our own individual journeys. Because at the end of the day, we're all we got. So let's hold onto that and let's hold onto each other. We gotta be one big family."
Openly gay actor Jim Parsons, best known for his role in The Big Bang Theory, was honoured with the Stephen F. Kolzak Award, which is presented to an LGBTQ media professional who has made a significant difference in promoting LGBTQ acceptance.
The TV show This Is Us won Outstanding Drama Series, while Disney teen series Andi Mack, which was banned in some African countries, was awarded Outstanding Kids & Family Programming.
Outstanding Film – Limited Release was won by A Fantastic Woman and When We Rise was recognised as Outstanding TV Movie or Limited Series.
GLAAD previously announced a Special Recognition Award for Jay-Z's song and music video Smile, featuring his mother Gloria Carter who used the song to come out as a lesbian, and a Special Recognition Award to the animated short film In A Heartbeat.
The event was attended by a host of stars including Halle Berry, Olympians Adam Rippon and Gus Kenworthy, Chloe Grace Moretz and Anthony Rapp.