Did Ellen DeGeneres' visit to Kenya and Tanzania go against her LGBT activism?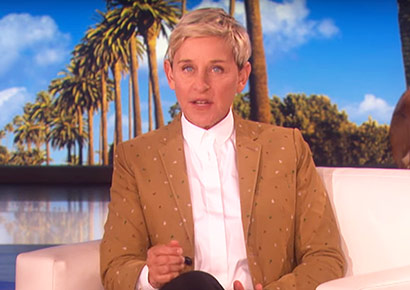 American television host Ellen DeGeneres recently visited Kenya and Tanzania to celebrate her 60th birthday, with wife Portia De Rossi.
Although the couple no doubt had the intention of enjoying the stunning scenery and wildlife that Africa has to offer, should we be concerned that such an influential member of the global LGBT community has traveled to two of the 38 African countries that criminalise sexual and gender minorities?
DeGeneres has previously spoken out and acted against homophobia and transphobia numerous times. Earlier this year, she and her wife called for a boycott and cancelled a trip to Bermuda after it banned same-sex marriage.
The question should be asked, what makes Africa different?
Is it hypocritical for an icon and activist like DeGeneres, who has so publicly challenged queerphobia, to disregard the harsh realities and marginalisation faced by members of the LGBT community in these African countries?
While the celebrity and her wife visited Kenya and Tanzania safely, with no reported incidents, it is likely that their international visibility protected them from the repercussions of being openly LGBT. That's sadly not the case for the citizens of these nations.
Same-sex acts are illegal under the Kenyan Penal Code, and are punishable by up to 14 years in prison. In a 2015 case, two men arrested on suspicion of homosexuality were forced to undergo anal testing. There are also reports of LGBT refugees being subjected to brutality and discrimination (including from police).
Thankfully, in March, the Court of Appeals in Kenya ruled that forcing men to undergo anal examinations for "evidence" of homosexuality is unlawful.
Members of the LGBT community also do not have any rights in Tanzania. Homosexuality is illegal, and same-sex relationships are not recognised. Members of the LGBT community can face life imprisonment as punishment.
In 2017, 12 human rights activists and lawyers, including a South African, were arrested after they were accused of "promoting homosexuality". The government has also restricted attempts to address the HIV crisis within the LGBT community, shutting down clinics and services.
The struggle for LGBT visibility and human rights in Africa has been widely documented and publicised in mainstream media throughput the world, but the subject of boycotting anti-LGBT countries remains a contentious one, with arguments for and against this kind of action.
Significantly, activist James Wandera Ouma, the founder and Executive Director of LGBT Voice Tanzania, has called for a tourist boycott of the country over the state of its human rights.
Perhaps, what we could have expected from DeGeneres is some consistency in her approach and to have at least acknowledged the realities faced by LGBT people in Kenya and Tanzania.