Cape Town Pride race row grows as Alternative Pride launched
LGBT activists have launched an "Alternative Inclusive Pride" amid continued accusations that Cape Town Pride is exclusionary and not representative.
The group, through its Facebook page, announced a calendar of events that will take place at the same time as Cape Town Pride to offer "safe, non-oppressive LGBTIAQ spaces in Cape Town."
The activists put the calendar together following a Facebook call for alternative Pride events under the theme "Pride to the People."
The events that have been announced include pageants, talks, parties, seminars, a movie night and performance art. At least three events are taking place in Khayelitsha or Gugulethu.
On Saturday 28 February, it appears that the group plans to stage a protest during the Pride Parade in the city.
"Though we are still far from where we would like Pride in Cape Town to be, it gives us so much hope and inspiration that we could work as a community to re-establish spaces that do not deliberately seek to marginalise LGBTIAQ people by race, class, location, income and gender identity," said the group.
The group has thus far not identified its members or affiliated organisations. Mambaonline contacted the group through the email address listed for more information and was asked to send a list of questions, which we did. These included:
Could you let us know your name and some background (e.g. are you an activist, are you based in CT etc…)?

Are you affiliated with any organisation or group?

What inspired you take this action?

What kind of response have you received?

Why do you think people have not submitted these events to the Cape Town Pride organisers to include them in their calendar?

Do you not think that including these events in the Cape Town Pride calendar rather than a separate calendar would be a good thing?

CT Pride insists that it has requested activities and events from communities outside of the white middle class LGBTI community to no avail. How would you respond?
In response, we received the following e-mail on Tuesday:
"As the call stated, we are a collective of LGBTIAQ activists who decided on creating alternative spaces for our community. Unfortunately I cannot respond to your questions as an individual because the initiative itself is not by an individual. This email account is merely a central point of communication. I will forward your email to all involved activists and get back to you as soon as there is a collective response to your questions."
We sent another e-mail on Thursday again asking for a response to our questions, and have not yet received a reply.
The latest furore over Cape Town Pride exploded after the Mail & Guardian published an open letter from Nyx McLean to Pride organisers, accusing the event of being "too white" and not being "fully aware of the lived realities of most LGBTIAQ people living, working and studying in South Africa."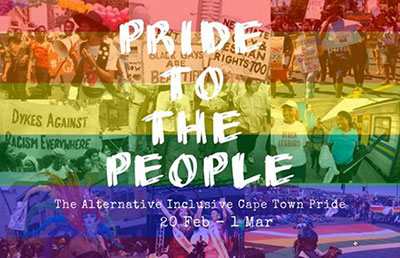 Pride Festival Director Matthew van As acknowledged that Cape Town Pride is not as representative as it should be, but blamed activists themselves for not coming forward to volunteer their time and input to the festival, despite repeated invitations for them to do so. (Read both letters here.)
The group Free Gender has now told British LGBT site PinkNews that it has "pulled out of Cape Town Pride", as it did last year.
Chairperson Funeka Soldaat said: "Free Gender, with other persons in their personal capacities, have attempted to negotiate with the current planners of Cape Town Pride for the creation of an inclusive space which recognises and speaks to the struggles of all LGBTI persons in South Africa. However, the current organisers have responded with blatant racism and bigotry."
She added: "It is time that the Cape Town Pride organisers are made aware that black lives matter."
Van As responded: "We put out a call for participation on our social media platforms asking all interested parties to get involved with our existing and new events. In response, six people attended the advertised meeting during which we elected the 2015 committee. A representative of Free Gender attended. Two of the people attending were white."
He went on to say: "Cape Town Pride does not see race or gender, but people willing to put in the effort and time, for free, to create gay spaces to celebrate being gay. We are Capetonians and gay. That is all we are."
For more details on the Alternative Inclusive Pride events, click here. For more information on Cape Town Pride events, click here.