This must end – action taken against homophobic educators in KZN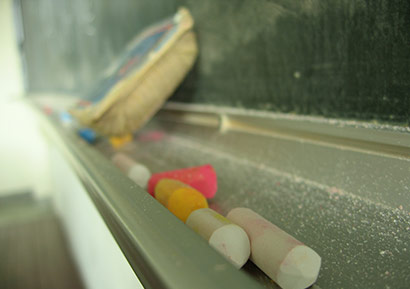 It's been confirmed that lecturers and a teacher have been suspended in KwaZulu-Natal over two separate incidents of alleged homophobia.
In the first, two lecturers at eThekwini Coastal College were suspended this week following widely reported allegations by 20-year-old gay administration student Bheka Khanyile.
He claimed he was subjected to homophobic verbal abuse by the lecturers, and was thrown out of a class because of his sexual orientation. He was allegedly targeted due to his "satanic gayness", for "spreading the devil's work" and for wearing makeup and braids.
Snegugu Zuma, head of communication and marketing at the college, confirmed to Mambaonline that the lecturers had been suspended for 30 days, with pay, pending the results of an investigation. They have also been given seven days to submit reasons why they should be reinstated back into their positions.
DA EThekwini Councillor Martin Meyer applauded the decision as "an indication of a commitment to deal with homophobia on this campus".
He revealed that he and fellow Councillor Nomfundo Khubone had met with the school and that it had "agreed that the campus must embark on LGBT awareness campaigns to both staff members and students".
In the second incident, a teacher at Ndala High School was suspended after lesbian learner Nokwazi Shelembe was expelled from the school, apparently for refusing to wear a skirt.
"The school principal said I must go home and wear a skirt since I was a girl. I told him that I could not wear a skirt because I have never worn one in my life," the 18-year-old told the Sowetan.
Her mother, Sizakele Shelembe, added: "She was wearing a school uniform. Did it matter whether it was a trouser or skirt? How could they deny her time to attend classes just because she is lesbian?"
In a statement, the Department of Justice and Constitutional Development welcomed both sets of suspensions and condemned all homophobic educators.
The department also called on the relevant authorities to speed up the investigations into these incidents "and to act decisively to root out the scourge of discrimination based on sexual orientation".
It added: "The harassment, victimisation and discrimination of persons on the basis of their sexual orientation cannot be tolerated in a democratic South Africa."
According to a recent Love Not Hate report on LGBT discrimination in South Africa, homophobia in schools is rampant: 56% of young people surveyed said they'd experienced discrimination based on their LGBT status at school.
KwaZulu-Natal was found to have the highest rate of LGBT people who had faced discrimination in school (79%).