Alert! Gay men being targeted and groomed on dating services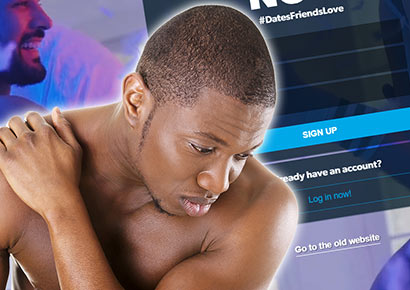 The gay community is warned to be vigilante after another Joburg man was beaten, held hostage and robbed when he arranged to meet someone he got to know on a dating site.
The traumatised individual, Robert (not his real name), told Mambaonline about the harrowing experience, which took place last month and left him with broken ribs.
His nightmare began in a seemingly innocuous way when he was contacted by a user named Matter1 on the PlanetRomeo gay dating site and they began chatting.
"This guy groomed me for nearly two months under the pretence of being a struggling immigrant from Angola who needed help," explained Robert.
"He never asked for money though. He said he was a lonely guy looking to make friends… an emotional connection." As the friendship developed, the two arranged to meet face to face at an address in Sunnyside, Pretoria.
On the allotted day, instead of finally meeting his online friend, Robert was faced with a group of five men who assaulted him and kept him captive for more than two hours. He was then forced to transfer funds to his attackers via a series of e-wallet transactions before being released.
Robert reported the incident to PlanetRomeo but says he has not received a response. He has also laid charges with the police and informed the banks involved. "I now have to prove to the banks that it was fraud," he said.
Robert, who is receiving counselling for the incident, believes that he was a victim of a crime syndicate that is actively targeting gay men; not only in Gauteng but also Cape Town.
His story is similar to that of another Johannesburg man who was abused and robbed in April after he arranged a meeting through the gay dating site Manhunt, also at an address in Pretoria.
There are likely to be other cases that have not come to light and other gay men in imminent danger. In fact, while Robert was being held hostage he overheard one of his captors planning another crime. "While I was sitting they were talking to their next victim on their phone, and his name was Michael."
The criminals may rely on the fact that their victims are too embarrassed to report the incidents, or feel that they are somehow to blame; thus allowing the criminals to continue to target other men.
Robert agrees and has experienced these feelings first-hand. "The way they operate is on shame," he said. "Their victims walk away feeling so ashamed," adding, "I am also angry at myself."
Between 2010 and 2013, there were a series of robberies and murders of gay men in Gauteng, at least some suspected to have been initiated via gay dating sites or apps.
Mambaonline urges gay, bisexual, and other men who have sex with men (MSM) to be informed and take precautions when meeting strangers in order to protect themselves from becoming targets of criminals.
Ideally, always meet someone in a public place first and inform a friend where you are going, asking them to check in with you. If a situation feels wrong, strange or dangerous, it probably is: don't take the risk.
If you have experienced a similar incident, please contact info@mambaonline.com (we will maintain your anonymity if requested).