Trump announces details of "revised" transgender military ban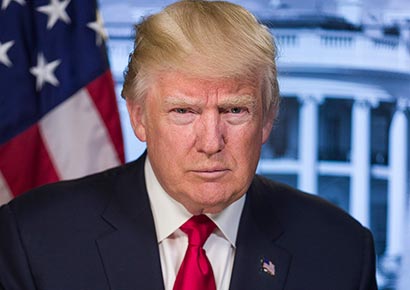 Despite a series of embarrassing court defeats, the Trump administration has announced details of its policy to ban most transgender personnel from serving in the military.
On Friday, the White House issued an order outlining how the discriminatory Trump ban should be adopted by the Department of Defense.
In the document, the president formally reversed his earlier blanket ban on all transgender individuals in the military, but continued to effectively target most transgender people.
The new policy states that "transgender persons with a history or diagnosis of gender dysphoria – individuals who the policies state may require substantial medical treatment, including medications and surgery – are disqualified from military service except under certain limited circumstances."
In a detailed memo, Defense Secretary Jim Mattis justified the policy. "By its very nature, military service requires sacrifice," he wrote.  He claimed that allowing transgender individuals to serve "could undermine readiness, disrupt unit cohesion, and impose an unreasonable burden on the military that is not conducive to military effectiveness and lethality".
Under the policy, transgender military personnel will be allowed to serve as long as they do not request reassignment surgery or medication and are prepared to serve "in their biological sex" – effectively forcing transgender staff back into hiding.
Personnel who were diagnosed with gender dysphoria between the time the Obama administration allowed transgender staff in 2016 and the effective date of Trump's ban will be allowed to continue to serve in "their preferred gender" and to receive "medically necessary treatment".
Human rights groups have pointed out that the policy currently has "no immediate effect" as a number of federal courts have issued nationwide preliminary injunctions blocking the ban.
The American Civil Liberties Union described the ban as "transphobia masquerading as policy". It added that, "This policy effectively coerces transgender people who wish to serve into choosing between their humanity and their country, and makes it clear that transgender service members are not welcome."
The Human Rights Campaign (HRC) noted that the discriminatory policy is opposed by military officials, service members' organisations, and even top Republicans in Congress.
"Donald Trump and Mike Pence are pushing their extreme anti-transgender prejudices onto the military over the overwhelming objections of bipartisan officials, national security leaders and the American public," said HRC President Chad Griffin. "We will never stop fighting this discriminatory policy until every current and future transgender service member is treated equally and respected fully for their bravery."
President Trump shocked the world in July 2017 by announcing on Twitter "that the United States Government will not accept or allow Transgender individuals to serve in any capacity in the US Military."
The order, however, was quickly challenged in court in at least six cases, leading to several damning injunctions against it. The administration cannot currently implement its transgender military ban unless it is allowed to do so by the courts.
There are an estimated 15 000 transgender people actively serving in the US military.