Most gay dads continue to face stigma for being parents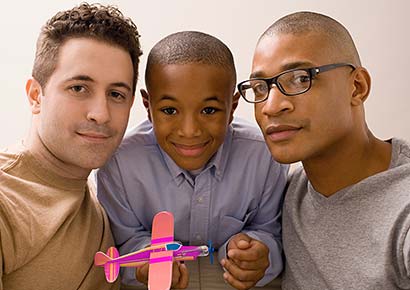 Being a parent is not easy but it's even harder for same-sex parents faced with an often unfriendly community, says a new study of gay dads.
According to the research, published in the journal Pediatrics, most gay fathers continue to experience some kind of disapproval, marginalisation or shame from society.
The study surveyed 732 gay fathers of 1,316 children in 47 US states and found that the majority (63.5%) reported that they had endured stigma based on being a gay dad. Just over half (51.2%) also admitted avoiding situations for fear of stigma in the past year.
Religious environments were the most commonly stigmatising spaces (reported by 34.8% of fathers). Around one-fourth reported experiencing stigma from service providers such as waiters and salespeople and / or family members, neighbors and even gay friends.
"Although these experiences were not commonly reported, the fact that they happened in settings that are traditionally expected to be sources of support and nurturing is particularly troubling," said the authors.
This kind of homophobic behavior also extended to the children themselves in some cases. Almost 33% of the fathers reported that their children had experienced stigma in the past year from their own friends, and almost 19% reported that their children had avoided friendship activities due to fear of stigma.
The study further found that becoming a same-sex parent in the first place had its own difficulties: 40.6% of those who attempted to adopt a child encountered barriers, and 33% had difficulties in arranging for custody of children from a previous heterosexual relationship.
The importance of legislation that protects same-sex families and their rights was reflected in the fact that gay dads living in states with legal protections were less likely to experience marginalisation.
Despite some of the hardships faced by same-sex parents and their kids, numerous studies have shown that these children turn out no differently than those of opposite-sex parents.