Are members of Steven Anderson's gay hate church in South Africa?
There are fears that missionaries from 'kill-the-gays' American pastor Steven Anderson's hate church have arrived in South Africa.
Over the past few weeks, local hate preacher, the Cape Town-based Oscar Bougardt, has been promoting a series of "soul-winning" events in Delft from 16 to 24 October. These will feature Anderson's Faithful Word Baptist Church as a "special guest."
Bougardt's social media posts for the events include images of Anderson, suggesting that the banned pastor himself could be one of the participants. Anderson has shared these posts on his social media pages.
Anderson was declared "a prohibited person in South Africa" by the then-Minister of Home Affairs Malusi Gigaba in 2016 due to his hate speech. Bougardt, however, has previously promised to somehow bring the preacher to South Africa.
Anderson, who calls for the execution of LGBTQ people, has stated that their eradication would free the world from the AIDS epidemic and has praised the Orlando Massacre. He has been barred from entering more than 30 countries around the world. The Southern Poverty Law Center has listed his Arizona-based Faithful Word Baptist Church as an anti-gay "hate group."
Bougardt has given few details about the planned events in Cape Town, presumably in an attempt to avoid media exposure.
On Tuesday, he wrote on Facebook: "Just an update: some of our guest has safely arrived in the country others will arrive today. We will hit the streets with our Soul Winning Marathons from tomorrow you are welcome to join us."
MambaOnline contacted Bougardt via email to ask for more information about the "soul-winning" events and how Anderson is involved.
The cleric replied: "You guys are so used to publishing articles about me and Pastor Anderson without asking our side of the stories. You go ahead and publish whatever makes you happy I have no interest in what you write and publish."
In a post on Facebook, Bougardt lashed out at the "sodomite media" and suggested that it is not Anderson himself who will be in South Africa but his associates. "Whether pastor Steven comes to South Africa or not the Gospel will still be preached. The gospel is not about one man, their are so many that can preach the Gospel," he wrote.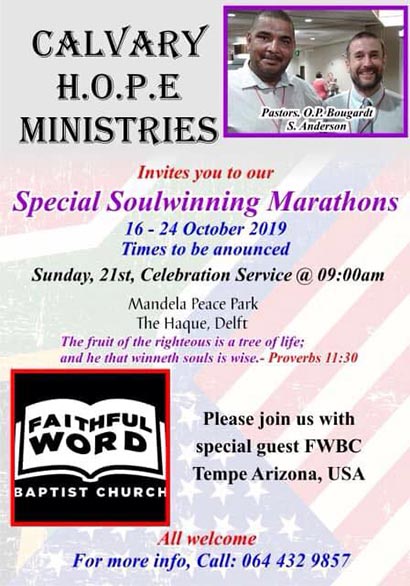 Pictures posted on Facebook by Bougardt on Thursday showed a group of people going door to door in Delft in an effort to "win" souls. None of them appeared to be Anderson.
Bougardt, who believes that "99% of paedophiles are homosexual," was found guilty of hate speech in May 2018. He was given a 30-day jail sentence, suspended for five years. Despite this, he has continued to publicly attack the LGBTQ community.
In October last year, he was quoted by The Daily Voice describing LGBTQ individuals as "f*gs". Just this week, he claimed that gay people are "infiltrating schools, churches, mosque, public libraries, sports clubs, youth gathering, scouts and any place where you find kids to promote their homosexual perversion."
The SA Human Rights Commission has told MambaOnline that it is taking further action against Bougardt for contempt of court but progress has been slow.