"You think you're a man?" KZN lesbian women brutally beaten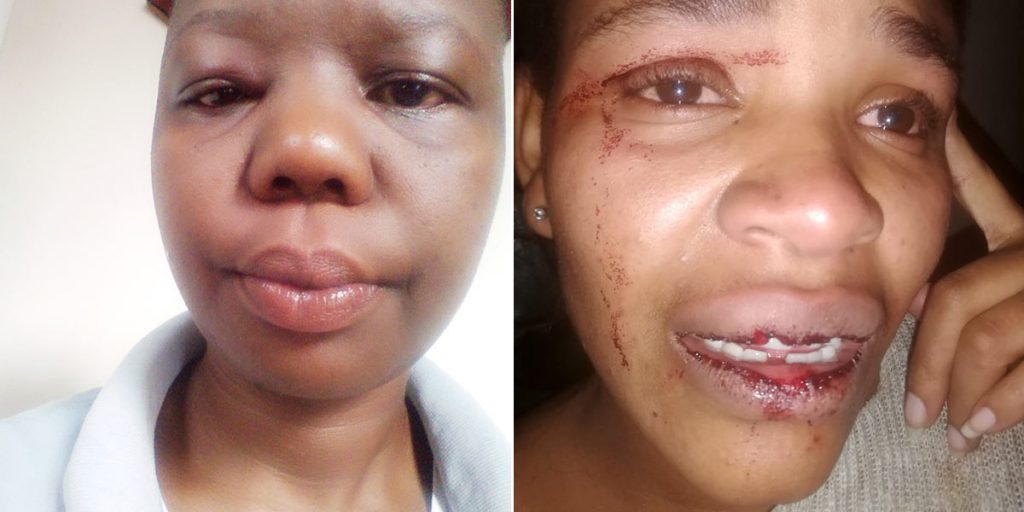 A young queer woman from KwaZulu-Natal has shared how she and a friend were mercilessly beaten and verbally abused for being lesbian.
Ayanda Mpanza told MambaOnline that on 29 February she was watching the Kaizer Chiefs vs Orlando Pirates football game at a party at a friend's house in Newlands West, outside of Durban. When the revellers ran out of beer, Mpanza, who is an online English tutor, and three friends drove to a nearby store to purchase more drinks.
Mpanza, who had taken a break from alcohol, says she was not drinking that day. As the friends arrived at the store at around 1 a.m, the women noticed a group of young men standing outside and drinking the same brand of beer that they also prefer to drink.
"As two of my friends went in to buy [the beer], the same young men made a comment about me and my friend [Thandeka Phewa] who I was left at the car with. It was hate speech, something about our sexuality," Mpanza says.
The women ignored the comment, after which Phewa got out of the car when the others returned with their beers. Unfortunately, Mpanza says, Phewa mistakenly grabbed a beer belonging to the men.
"One of the young men snatched the beer from my friend's hand and like a lunatic, he started bashing her on the face repeatedly to the point where she passed out and hit her head on a rock as she hit the ground. We were so afraid, we all thought she was dead," says Mpanza.
The blows knocked out the woman's front teeth, leaving her with a split upper and lower lip, a crack above her left eye and a gash on the back of her head. While the shocked friends checked on the injured woman, the young men began to casually walk away. Mpanza says she pleaded with those who had witnessed the incident for the alleged attacker's name.
"The very same guy who beat my friend unconscious heard me ask for his name and came storming back. 'You think you're a man? I'll show you that you're not,' is what he kept saying as he repeatedly and aggressively punched me in the face and kicked me in my head," Mpanza recounts.
"I swelled up immediately and tried as much as I could to hide my face from his angry blows. This time they fled the scene in a hurry."
Phewa, who doesn't remember much about the attack itself because she lost consciousness, believes that it was definitely at least partly motivated by homophobia "because of the comments that [the alleged assailant] made before I even took the beer."
Mpanza adds: "I hear of horror stories of atrocities committed against the LGBTQ community and I suppose the biggest mistake I have made is thinking 'It could never happen to me."
The women went to the Newlands East Police Station that evening but, they claim, they were turned away because some of them were intoxicated. They returned the next day and were horrified to be told that they had to find where their attacker lives and supply the police with his address before officers would open a case.
"We were angry, distraught and helpless. How on earth do you send us back to the very same person we are reporting to have assaulted us without protection by the police?" asks Mpanza.
"This guy has taken away my smile…"
The determined women, still recovering from their beating, tracked down and identifed their alleged assailant and were finally allowed to open a case.
"One of the officers made us repeat our story more than five times. When frustrations rose, my friend [Phewa] began crying and the officer, who lacked any empathy, asked her not to 'perform,'" claims Mpanza.
Phewa says: "You would think going to the police with broken teeth and torn lips, a swollen face and open gash on your head, bleeding, would create some sense of urgency but they couldn't care less. They made me feel like the criminal to the point where I just wanted to give up."
A short while later, their alleged attacker went to the police and denied the allegations against him. "The police then interrogated us as though they do believe him, taking the word of one guy over many witnesses," Mpanza says.
"The whole experience has been appalling and disgusting. It is no wonder there are many silent victims out there who'd rather let their attackers get away with it then to relive the same trauma and above that, harassment by the police."
Phewa admits that she remains "silently terrified" after the assault. "I'm afraid to be seen with my partner or my friends, including Ayanda, because I don't know who to trust and what they're capable of. I sometimes have nightmares to the point where I'm taking pain killers even when I don't need them just to fall asleep. Beyond that, this guy has taken away my smile… do you know what that feels like? I was away from work for six days and I'm still in training so I won't be getting paid for those days. That's food off my table."
She is sceptical that the case against her alleged attacker will bear any fruit. "I don't think anything will happen to this guy; the police would rather lose my case," she said.
MambaOnline attempted to contact the Newlands East Police Station for comment but was unsuccessful at the time of publishing as the phone number was "not available."
According to a 2016 report by OUT's Love Not Hate project, 88% of LGBT victims of hate crimes did not report these incidents to the authorities. This is believed to be in large part out of fear of secondary discrimination by the police.