Here's what happened at the 2022 Feather Awards!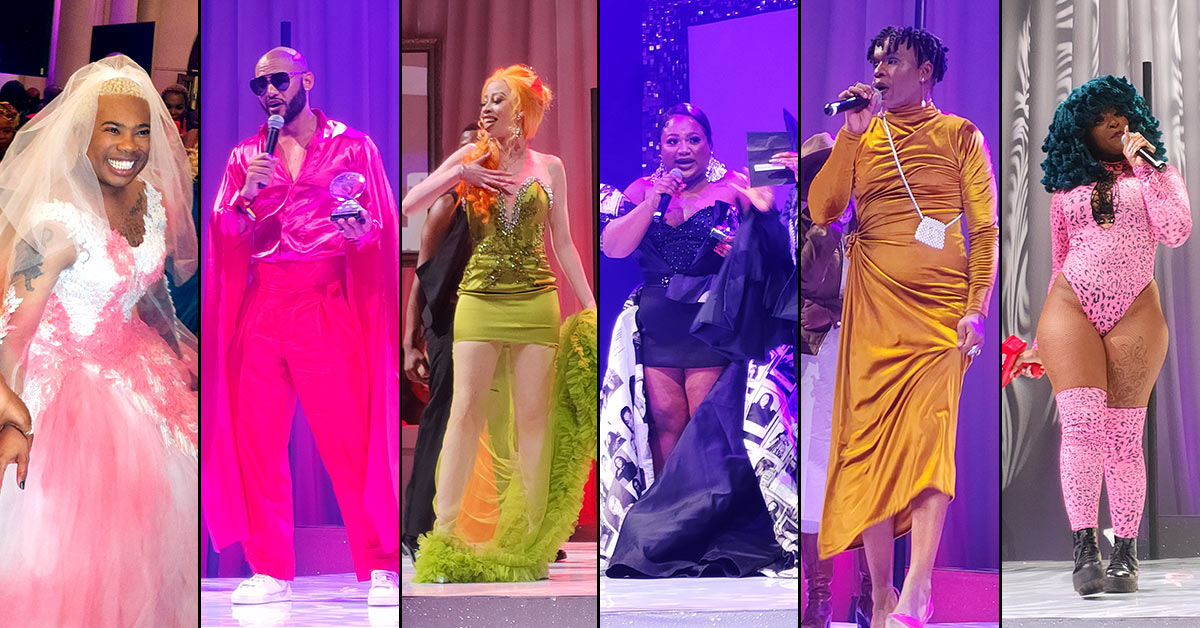 The 14th annual Feather Awards delivered another memorable night of queer glamour, celebrity and activism at the Market Theatre in Johannesburg on Thursday night.
The event – held under the hashtag of "UnfvckenApologetic" – was a glitzy gathering of LGBTIQ+ changemakers and friends who came out to visibilise the queer community through fashion, entertainment and allyship.
The red carpet once again rivalled a Hollywood event and offered a spectacle of shimmering flamboyant fashion, with gender fluidity being the order of the day. Feathers co-founder Thami Dish was fashionably extra-late and arrived in a white and pink wedding dress!
The show was hosted by the Modiselle sisters and featured high-energy performances by the likes of Moonchild Sanelly and some of the drag stars of House of Pink Volume 2.
The night's notable winners included the remarkable women of queer rights group FEW being named Role Model of the Year. They dedicated the award to their constituency; black lesbians in the townships, who most often face the brunt of queerphobia.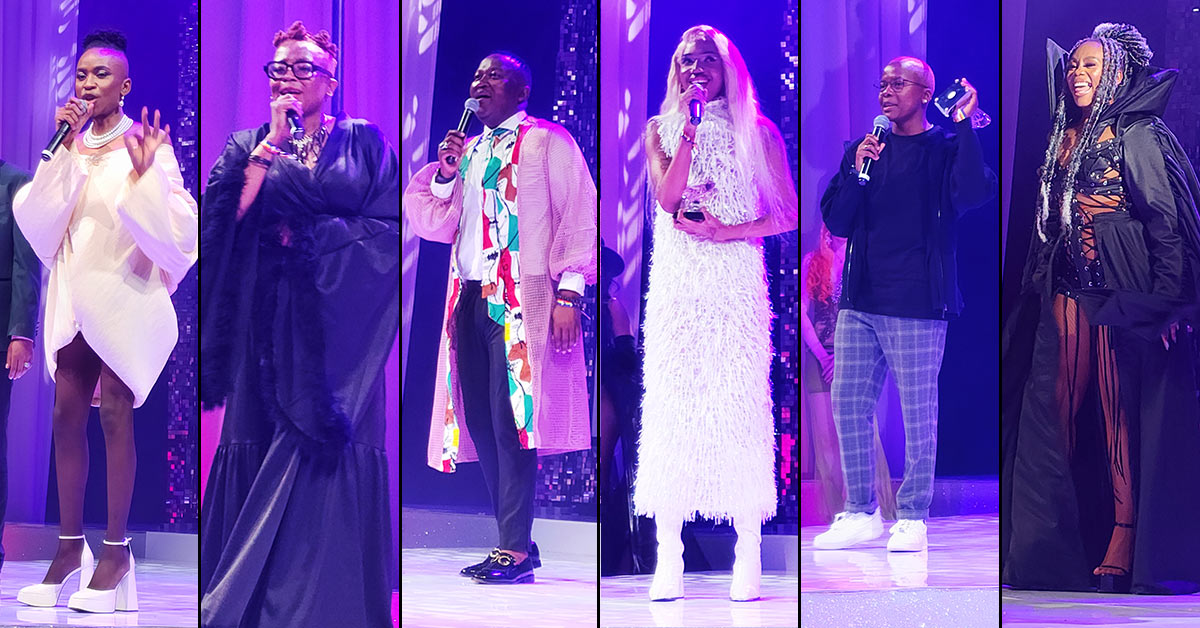 Banyana Banyana took home Sports Personality of the Year and the Diva Extraordinaire of the Year was Yvonne Chaka-Chaka. Vogue Nights Jozi was recognised as Best LGBTIQ Youth Movement and its reigning mother, Treyvonne Moo from the House of Diamonds, was awarded Best Rainbow Parenting.
YFM scooped the Media Award of the Year for its coverage of LGBTIQ+ issues and internationally renowned choreographer and dancer Gregory Magoma was presented with the Simon Nkoli Award. As he was out of the country, his partner accepted the award for him.
In their acceptance speech for the Socialite of the Year gong, Tumi Powerhouse called for more representation for transgender and queer individuals asserting that "we are showing people what is beautiful." Tumi's dress featured the faces of notable trans and non-binary figures who have helped to visibilise their community.
A profoundly moving candlelight ceremony with a moment of silence was held to commemorate long-time Feather Awards host Lumko Johnson and producer and event-manager Tlhapang Petso who both tragically passed away after last year's event. Family members joined Thami Dish (now more suitably attired) on stage to honour their lives.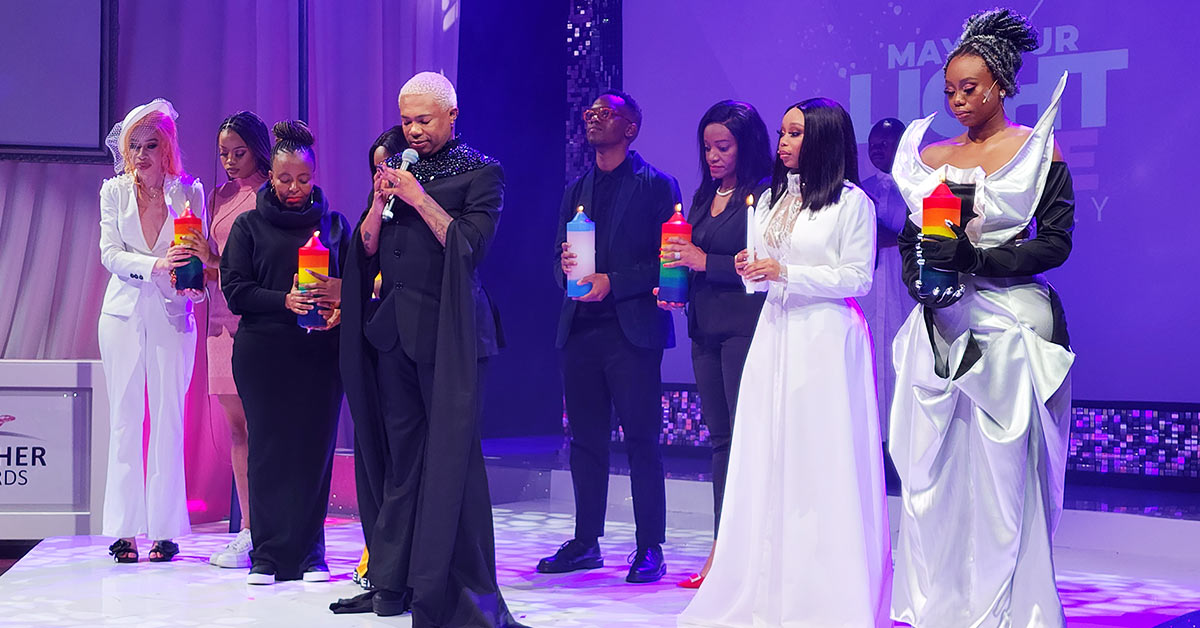 The event will be televised on SABC at a date still to be announced. Below are all the winners of the 2022 Feather Awards.
Best Styled Individual
Nkuley Masemola
Hunk of the Year
Senzo Radebe
Diva Extraordinaire of the Year
Yvonne Chaka-Chaka
Sports Personality of the Year
Banyana Banyana
Role model of the Year
FEW
Cutest Couple of the Year
Boity Thulo and Anton Jefta
Hot Chick of the Year
Nambitha Ben-Mazwi
Media Award of the Year.
YFM
Fag hag of the Year
Candice Modiselle
Designer of the Year (new category)
Sello Medupi for Scalo
Musician of the Year
Msaki and Zakes Bantwini
Socialite of the Year (Seen at every opening of an envelope or an erection of a stop sign)
Tumi Powerhouse
Drama Queen of the Year
Thato (RHOCT)
Social Media Personality of the Year
Birth of Stars
Best LGBTIQ Initiative: Private Sector
Jagermeister
Best LGBTIQ Initiative: Public Sector
NYDA
Best LGBTIQ Youth Movement
Vogue Nights
Best Rainbow Parenting
Treyvonne Moo (House of Diamonds)
Simon Nkoli Award
Gregory Magoma