It's Rainbow Day – A year since gay hate preacher was barred from South Africa
It's been exactly one year since the historic day the South African government barred American gay hate pastor Steven Anderson from entering the country.
On 13 September, 2016, the then Minister of Home Affairs Malusi Gigaba announced in Parliament that he had declared Steven Anderson "a prohibited person in South Africa".
Gigaba cited the protection of LGBTI people from discrimination in the Constitution and the Equality Act, which bans hate speech, as the basis for his decision.
"We have a duty to prevent harm and hatred in all forms against LGBTI, as any other person in a democratic state," said Gigaba, including, he explained, needing to "prohibit foreigners who are likely to promote hate speech".
The landmark event was the first time in South African (and African) history that a person had been refused entry into a country because of his or her anti-LGBTI stance.
Gigaba's decision followed a determined campaign, led primarily by GaySA Radio, to stop the preacher, who calls for the execution of gay people, from spreading his views. A dossier of evidence against Anderson was presented to Gigaba, in addition to petitions signed by more than 60,000 people from all over the world.
"Our victory over importing gay hate speech into the country in the form of Anderson and his associates was a major victory," said Hendrik Baird, the station manager at GaySA Radio.
"At GaySA Radio, we are proud of our achievement and proud of the people from all over the world who supported our cause. We continue to be vigilant every day, as we broadcast news and information about and for the LGBTQ+ community over the internet."
Coenie Kukkuk, the lawyer who represented GaySA Radio in the campaign, said that the day of the minister's announcement, since dubbed "Rainbow Day", should be celebrated annually.
"It was hugely significant as it showed not only the power of our Constitution and the rights entrenched therein, but also the government's commitment to LGBTI rights."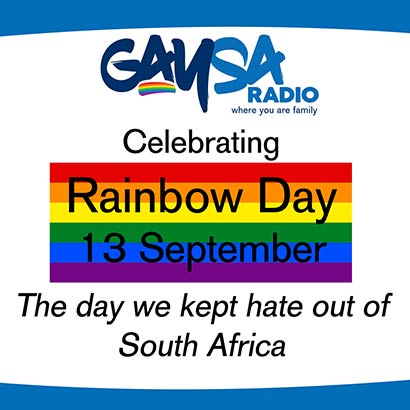 Kukkuk noted that South Africa's move was followed by the government of Botswana which deported Anderson and his followers after he tried to set up a branch of his hate church in that country.
"We can now reveal that their Department of Home Affairs used the very same dossier we supplied to Minister Gigaba, to justify its deportation of Anderson and his ilk," said Kukkuk.
"The South African LGBTI community, by standing together, not only prevented that church from taking a dangerous foothold in South Africa, but also in Botswana."
Kukkuk added: "We cannot rest for one moment in protecting our hard-won rights. They are after all only words on paper if we do not claim them. "