AfriForum claims that LGBTQ rainbow flag could be banned in SA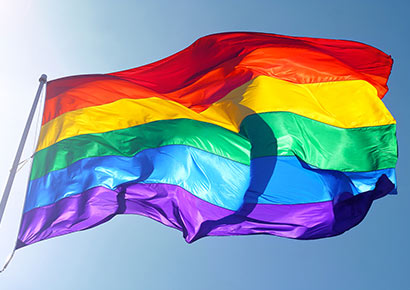 Controversial NGO AfriForum says that if the old South African flag is banned for being offensive then the LGBTQ rainbow flag could be next.
Details of the group's response to an attempt to restrict the flying of the apartheid-era flag have come to light, and the international symbol of the LGBTQ community has been dragged into the debate, reports EWN.
"The argument on why the old South African flag should be banned is because of its offence," says AfriForum's Ernst Roets, who warned that this "could lead to the banning of the Rainbow Flag".
Roets wrote in papers filed at the Equality Court: "There are many polls which found the majority of people in South Africa have a problem with homosexuality. It's an extremely slippery slope if we try to say if something offends him or her and then that symbol has to be banned."
Most are likely to see AfriForum's legal argument as an opportunistic and deeply cynical ploy as it is not known for being an ally of the LGBTQ community. The context and history of the two flags are also vastly different.
Some members of the community, however, believe there is merit in the group's argument and that free speech is at stake.
Said one on Facebook: "… a flag should not be banned but if violent actions are committed under that flag or symbol, those actions must be prosecuted. What Afriforum is implying is that if the old flag is banned due to it being offensive then [homophobic evangelist] Angus Buchan would have a strong argument to ban the gay flag as his flock would find it offensive…"
In 2011, a witness for AfriForum in the Shoot the Boer hate speech trial of Julius Malema (the ANC Youth League-President at the time) spoke of his disgust of homosexuality.
When asked about Malema changing the song to "Kiss the Boer," Professor Chris Bezuidenhout. "It is negative and kiss is negative. Do you understand me sir, I do not want to be kissed by another male. It is my culture," he said.
AfriForum is opposing an application by the Nelson Mandela Foundation for the Equality Court to declare that "gratuitous displays of the old official flag of apartheid South Africa constitute hate speech, unfair discrimination and harassment based on race".
The foundation argues that "some South Africans do not fully appreciate that apartheid was a crime against humanity (as the United Nations declared in 1973), and that gratuitous displays of apartheid symbols, such as the old flag, are a celebration of that crime and a humiliation of its victims".
It believes that the flag should restricted, just as is the case in Germany with regard to Nazi symbolism, and that it should only be seen "in museums, documentaries and cathartic creative works".
Update: Johannesburg Pride has condemned AfriForum's stance in a statement.
"The reason to call for a ban on the old South African flag stems from its symbolism of apartheid," said Johannesburg Pride Chairperson: Kaye Alley. "To drag one of the symbols of a human rights campaign into this argument is a failure. Johannesburg Pride feels that if AfriForum feels so strongly against the ban of the old South-African flag they should come up with a better argument without dragging the LGBTIQ+ community into it."
The organisation warned that it would view "any further comparison and/or call to ban the rainbow flag / LGBTIQ + flag as a direct declaration of homophobia".