Conversion therapy survivor speaks out in powerful video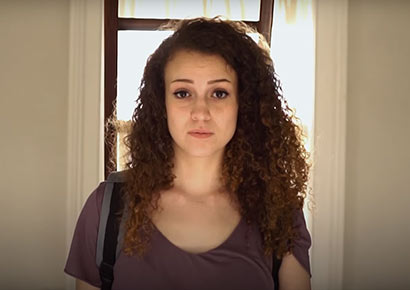 A young American woman has recounted the experience of being abused in an effort to force her to change her sexual orientation.
In a video released by the Human Rights Campaign (HRC), Alex Cooper described what happened when she came out as lesbian to her religious Mormon family at the age of 15.
Her parents took her to Utah, where for eight months she was subjected by strangers to dehumanising and brutal efforts to change her sexuality, known as conversion therapy.
"I felt like they got some kind of weird joy out of torturing children," she says in the video, also revealing that she met two gay teens who were also forced to undergo conversion therapy by her tormentors through physical abuse.
Cooper was barred from going to school for months and even her grandparents were not allowed to speak to her when they were in the same church.
In her book about the experience, titled Saving Alex, she writes: "My story is an easy one to tell. No one should be beaten, or be told that God doesn't want them, or be sent to dangerous so-called 'conversion therapy' because they are gay. No family should feel they have to choose between their faith and their child."
Cooper now lives with her girlfriend in Portland, Oregon, and works on behalf of a children's charity. The video was released to support the campaign for conversion therapy to be banned in the US, especially when it comes to minors.
The dangerous practice is grounded in the belief that being LGBTQ is abnormal or immoral and it has been outlawed in a number of US states and in Malta. A study earlier this year estimated that 77,000 LGBT American youth, currently aged 13 to 17, will undergo conversion therapy in some form before the age of 18.
The World Psychiatric Association and many other mental health bodies have asserted that trying to "cure" LGBTQ people doesn't work and is both dangerous and unethical.
The practice is believed to take place in South Africa, primarily amongst religious groups, but is not widely reported on. In 2015, two men behind a South African masculinising and gay cure youth camp were found guilty of murdering Raymond Buys, a 15-year-old boy. Their Echo Wild Game Rangers Camp, in which two other boys had previously died, promised parents to "turn boys" and "moffies" into "men".
The Psychological Society of South Africa (PsySSA) has condemned conversion therapy and recently said that registered health professional who practice it should be disbarred.