Die Stropers is the latest South African gay themed film heading to cinemas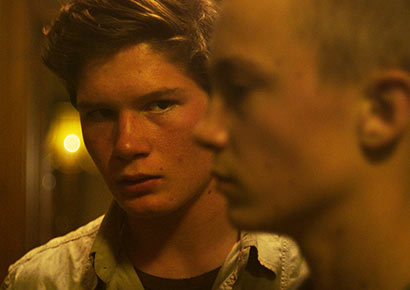 Queer cinema has steadily grown to become one of the leading forces in film internationally over the last five years. And South Africa is no different.
Etienne Kallos's film Die Stropers (The Harvesters), which won critical acclaim at the 2018 Cannes Film Festival, opens nationwide on 15 March and is the latest in a series of award-winning films about LGBTQ themes.
The South African-French-Greek-Polish co-production, by first-time Greek-South African director Kallos, is an intense psychological drama exploring the coming-of-age of a new generation of Afrikaans youth.
Set against a severe and dusty landscape, it tells the story of obedient Afrikaans teenager, Janno (Brent Vermeulen), whose deeply religious mother, Marie, brings home a troubled street orphan and drug addict, Pieter (Alex van Dyk), to foster on the family's remote cattle farm in the Free State.
It explores the thorny issue of identity and sexuality in a provocative and darkly moving way. As Pieter goes through withdrawal, Janno takes him under his wing, introducing him to the farm, the local prayer group and the church boys' rugby club. But Pieter is far worldlier than Janno, and instantly spots the fact that Janno has a crush on his best friend. Pieter also introduces Janno to the lively nearby black community, and reveals that he has been selling his body to local men for cash. Janno finds this shocking, but he's also envious.
"Being gay in this farming society is unthinkable," says Kallos. "As orphans, these boys are already outsiders, and they are forced to confront their sexuality in an extremely masculine setting among people who are bigoted on many levels."
To have boldly queer films in the running for major awards would have been unheard of ten years ago. It began with Todd Haynes' Carol in 2015, and was followed by the historic Academy Award for Best Picture win for Barry Jenkins' Moonlight in 2016. In 2017, Luca Guadagnino's Call Me by Your Name was hailed as a gorgeous coming-of-age tale that avoided the clichés in many films about gay love. It won the Oscar for Best Adapted Screenplay, and was nominated for Best Actor, Best Picture and Best Original Song.
Ground-breaking and highly publicised lesbian film Rafiki (2018), directed by Wanuri Kahiu had nine wins and 14 nominations at global festivals, despite being banned in its home country of Kenya. The film had its international premiere in the Un Certain Regard section at the 2018 Cannes Film Festival (and will be released in South Africa in May).
In South Africa, Skoonheid, directed by Oliver Hermanus, was the first Afrikaans film to be selected for the Cannes Film Festival Un Certain Regard, and won the Queer Palm in 2011. Inxeba (The Wound) (2017) won 19 awards of excellence at festivals around the globe, including the BFI, the African American Film Critics Association, and the International Queer & Migrant Film Festival in Amsterdam. At home, the film walked away with eight SAFTAs.
Last year, Kanarie, the tale of a queer teenage man who gets called up for military service, sparked international interest and raked in several international accolades before even hitting the big screen in South Africa. It won the Silwerskerm Film Festival award for Best Feature Film, among other awards, as well as Best LGBTQ film at the Cape Town International Film Festival. It went on to win awards in Chicago and Atlanta in the US. Kanarie was also part of the Official Selection at the 2018 OutFest in Los Angeles, as well as the Inside Out Toronto LGBT Film Festival.
"Die Stropers looks set for a similar journey as it picks up awards all over the world," says Helen Kuun, MD of Indigenous Film Distribution. "What's key about award-winning films in this genre is that they allow audiences in on the LGBTQ experience in ways both artful and political, and through characters who are complex and magnetic."
Die Stropers had its premiere at the 2018 Cannes Film Festival, where it received a standing ovation from the audience. The film has already won a number of international awards including: Sundance/Mahindra 'Global Filmmaker Award'; Rome International Film Festival 'Alice Nella Citta Jury Award for Best First Feature'; and the African Film Festival of Khouribga, 'Best Director' Award.
Die Stropers opens in South African cinemas on 15 March. Watch the trailer below.