Funeka Soldaat – securing the legacy of black lesbians in townships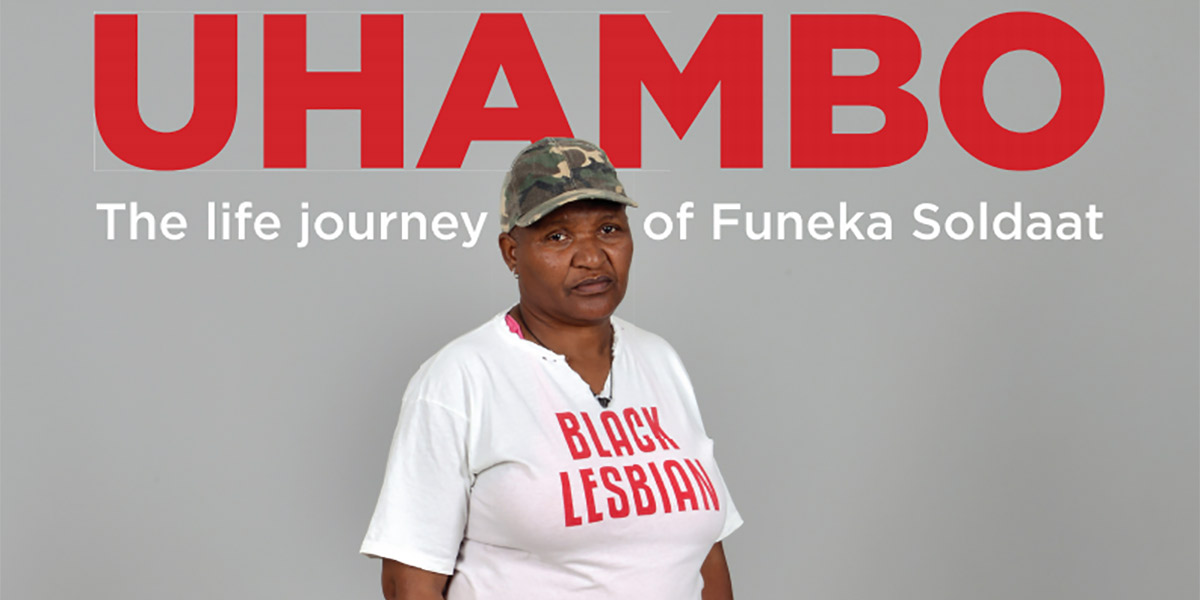 In the wake of apartheid, South Africa has produced some of the most important pioneers in the fight for LGBTQ+ equality on the continent. One of these is Funeka Soldaat, a Western Cape activist who recently published uHambo, an inspiring autobiography about her experiences of discrimination and hate.
The co-founder of an advocacy organisation based in Khayelitsha, Soldaat is unrepentant in exposing the intersection between social inequality, patriarchy and the challenges faced by LGBTQ+ people.
MambaOnline spoke to Soldaat to find out more about her autobiography and the important activism she does for the community.
"I wrote uHambo [Journey] to secure the legacy of black lesbians in townships," says Soldaat from the Makhaza section in the township of Khayelitsha in Cape Town. "It was to reflect and deal with the past and the loss from my family."
The book, she explains, exists in the context of queer people needing to authentically document and write their own stories and histories, rather than this being done from the outside.
The LGBTQ+ community is one of the main targets of hate crimes in South Africa. Lesbian women in particular tend to be victims of so-called 'corrective rape' and murder, especially in townships and peri-urban areas.
As a corrective rape survivor herself, Soldaat says that writing the book helped her to address many of her own traumas. In 1995, she was attacked by four men not far from her home in Khayelitsha. When she went to the police to report the rape, officers refused to take her statement. "I went home and slept after that. My life was now a disaster," she told the Khayelitsha commission of inquiry into policing in 2014.
Things haven't changed a great deal and studies have shown that LGBTQ+ people still do not trust the police when it comes to reporting hate crimes. A 2016 report also found that 41% of LGBT people said they knew of someone who had been killed due to their sexual orientation or gender identity.
Just last year, Noxolo Mabona Klaas, a 23-year-old lesbian woman was brutally murdered in Strand, Cape Town on New Year's Day. It was, however, the 2006 murder of Zoliswa Nkonyana that inspired Soldaat to co-found her organisation, Free Gender. The 19-year-old was beaten, stoned and stabbed to death by a group of around 20 men. Only four were convicted of her murder after an astounding six-year-long trial.
These incidents are what prompt Soldaat to continue to stand up and affirm the value of the lives of black lesbian women in an anti-queer society. Free Gender has played a major role in providing support for queer women in the area and helping to ensure that victims receive some degree of justice.
A struggle icon from the 60s, Soldaat says that at the time she did not have the opportunity to come out and "properly" address the issues that were faced by herself as a black lesbian woman in the country.
"The focus [during the struggle] to all of us was apartheid and my biggest challenge was that I never had a reference; because of my sexual orientation," says Soldaat.
While the narrative of homosexuality being deemed un-African by many is a reality, she believes that we need to constantly challenge this belief to educate those who do not accept being queer. Soldaat asserts that queer people are 'normal' and their genders and sexual orientations have got nothing to do with culture.
Now married to her wife, Ntandokazi, Soldaat hopes that her book will educate and inspire young black lesbian women in particular about gender diversity and sexuality and living in an often unwelcoming society.
"A lot has changed after democracy, with all the homophobic laws now being destroyed. However, this is not to say the young generation does not face any new challenges. We need to support them," she says. "Education is the only hope to independence and most importantly, coming out has to be your own decision that you have to think about carefully."
uHambo was officially launched in February. It is available for purchase at Free Gender's office in Khayelitsha or you can place an order via email on freegender2008@gmail.com.