Feather Awards 2021 | Ramaphosa says "queer lives matter"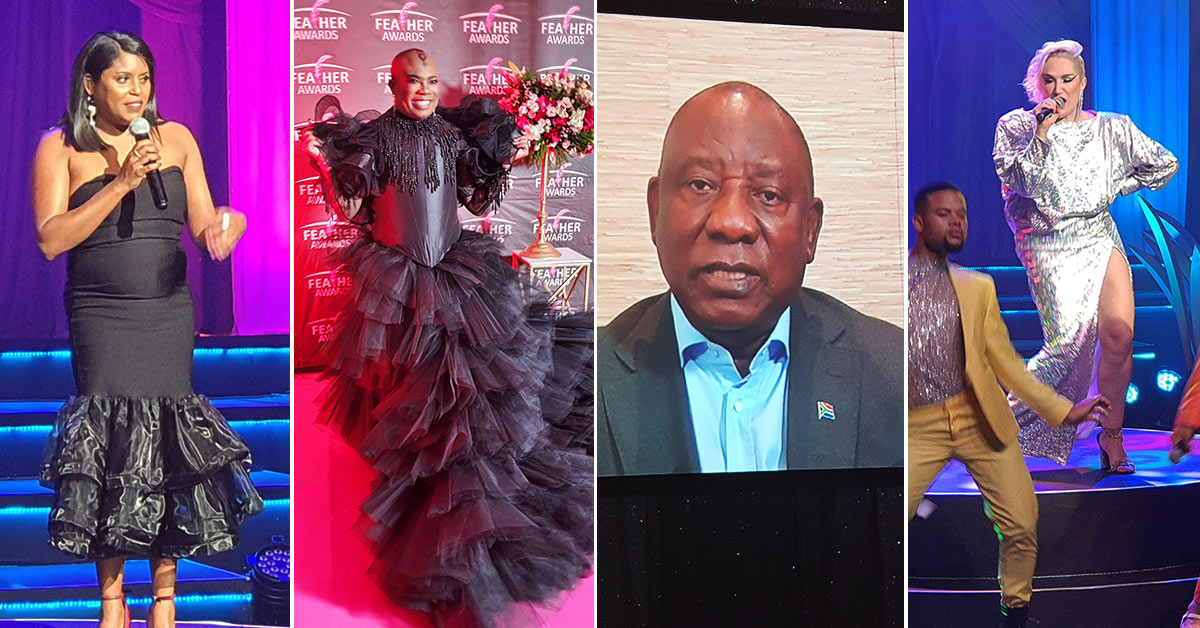 The 13th Feather Awards was a celebrity-packed celebration of all things African and queer and featured a surprise message from President Cyril Ramaphosa.
On Thursday night, the country's most fabulous, talented, influential and passionate LGBTQI+ luminaries and allies gathered at the Market Theatre in Johannesburg for the annual event. A highlight of the social calendar, the guests came dressed in spectacular and statement-making outfits.
The star-filled Pink Carpet saw celebrities such as Lethabo Joy, Ayanda Ncwane and Phupho Gumede Kardashian arriving with "trains for days!" And reality-TV star Yaya Mavundla stunned with a R2-million diamond necklace.
One of the highlights of the night was a video message from President Ramaphosa in which he once again spoke out in support of the rights of queer South Africans, especially in light of the more than 20 LGBTQIA+ people killed in South Africa this year.
"This recognises the conversation that we must have around violence directed at LGBTQIA+ South Africans", said the president, describing this as "an assault on our common humanity [that] must be universally rejected and condemned. The perpetrators must face the full might of the law."
He added that, "We have heard the pleas of the community" and noted that many hate crimes "go unreported because [victims] feel they won't be believed or that justice will not be done."
Ramaphosa said that measures being taken included Parliament recently republishing the Hate Crimes and Hate Speech Bill and the government, together with the European Union and civil society, hosting a landmark conference on transgender and intersex rights in South Africa. "It acknowledged that transgender and intersex persons have distinct legal needs and often face enormous challenges when trying to access services or care."
The president concluded by asserting that "queer lives matter. It goes beyond the struggle to end abuse, to end violence and hate crimes, it is an assertion that the lives, aspirations and needs of the LGBTQIA+ community are just as important and just as valid as those of anyone else in our society."
Significant awards of the night included the Role Model of the Year, which was won by Roché Kester, the former Hate Crimes Manager at OUT and the recently-appointed Director LGBTI and Others in the Gauteng Premier's Office.
"We need to be celebrated because we are beautiful, we are effortless, we are magical, and they were never ready for us. And because of that, they don't understand what we can do," said Kester. "To everyone in this room, I want you to know that I understand what you do. I see how you move mountains by stepping out of your house, by being yourself and by being brave enough when you are without your community and you have to be alone."
The 2021 Simon Nkoli Award was presented to celebrated South African fashion designer, David Tlale. Accepting the award, Tlale said he was "humbled by this moment" and reflected on his journey to international recognition that had its beginnings in the township of Vosloorus.
He dedicated the award to "my beloved late mother who did not understand what a fashion designer is, who did not understand that I was going to drop out of auditing and become a fashion designer. Today I stand here wearing a crown with pride knowing that she did a good job, even though she did not understand at times."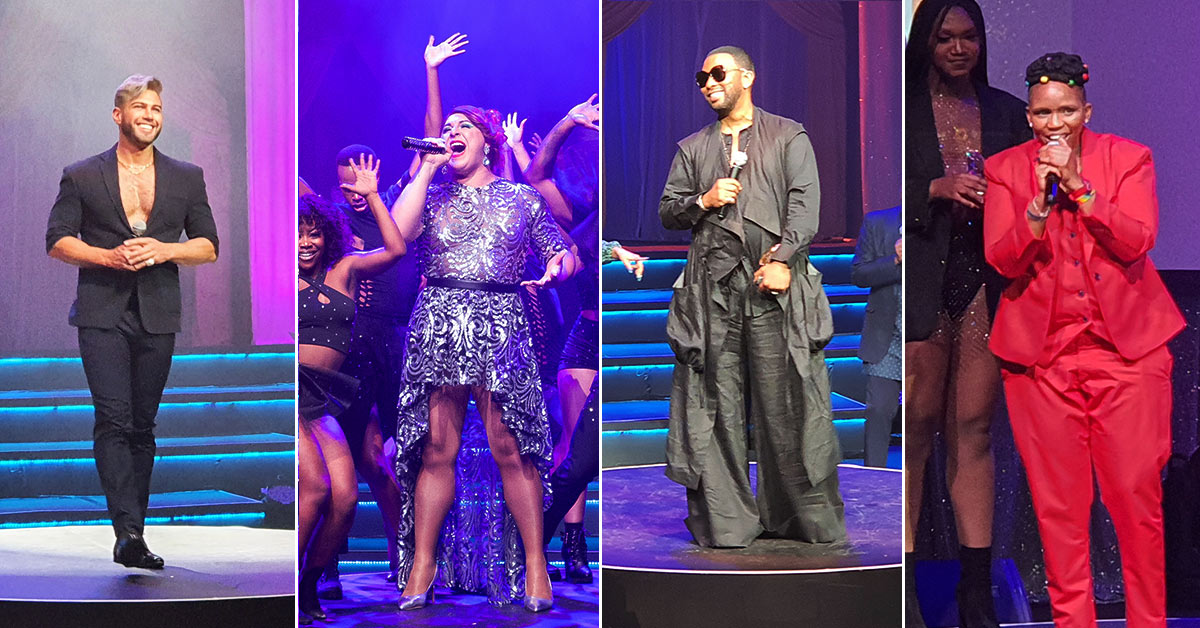 Virginia Magwaza, the founder of Parents, Families and Friends of the South African Queers, who received the Best Rainbow Parenting award, said she was inspired by the experiences of her children. "We can be activists wherever we go but charity begins at home," she asserted.
Footballer Phuti 'Minaj' Lekoloane was recognised for his contribution to inclusion in sport with the Sports Personality of the Year award. "It's an honour to win something for a sport that took so much from me. It is not easy being a gay footballer," he said in an emotional acceptance speech. "I'd like to thank the gay community for not giving up on me."
Another major award of the night was for Best LGBTIQ Youth Movement, which was won by Vaal LGBT, an underfunded but committed community organisation that supports the victims and survivors of hate crimes in seeking justice in the Vaal region.
Becoming, the groundbreaking reality series focusing on the lives of transgender South Africans was recognised with the Media of the Year award. The producers and Mavundla, one its stars, dedicated the award to Gina Sokoyi, another of the show's participants who died from Covid-19 complications during its production.
The Cutest Couple award was scooped by well-known PR, marketing and branding guru Sylvester Chauke and his husband Tumelo Mmusi, to the enthusiastic support of the audience.
The biggest accolade of the evening, the African Feather of the Year was awarded to former United Nations official, the acclaimed Dr Phumzile Mlambo-Ngcuka.
Award hosts Lumko Johnson alongside Penny Lebyane, Ditshego Ditsego and Zizo Tshwete kept the audience entertained for the three-hour long ceremony. Live performances by the likes of Shenay O'Brien, Tamara Dey, Amstel, Lady Du and Holly Rey, alongside the Mzansi Gay Choir, brought the roof down.
Below are all the winners of the 2021 Feather Awards
Best Styled Individual
Zozibini Tunzi and Rich Mnisi
Hunk of the Year
Wiseman Zithar
Diva Extraordinaire of the Year
Johanna Mukoki
Sport Personality of the Year
Phuti "Minaj " Lekoloane
Role Model of the Year
Roche Kester
Cutest Couple of the Year
Sylvester Chauke & Tumelo Mmusi
Hot Chick of the Year
Shudufadzo Musida
Media Award of the Year
Becoming
Fag hag of the Year
Lady Du
Musician of the Year
Makhadzi and Lady Du
Socialite of the Year
Lelo WhatsGood
Drama Queen of the Year
Khanyi Mbau
Social Media Personality of the Year
Coachella Randy
Best LGBTIQ Initiative ( Private Sector)
Ernest & Young
Best LGBTIQ Initiative ( Public Sector)
Gauteng Department of Education
Best LGBTIQ Youth Movement
Vaal LGBT
Best Rainbow Parenting
Virginia Magwaza
African Feather Award
Dr Phumzile Mlambo-Ngcuka
Simon Nkoli Award
David Tlale