Tragedy and Triumph: Mamba's 20 most-read queer stories of 2020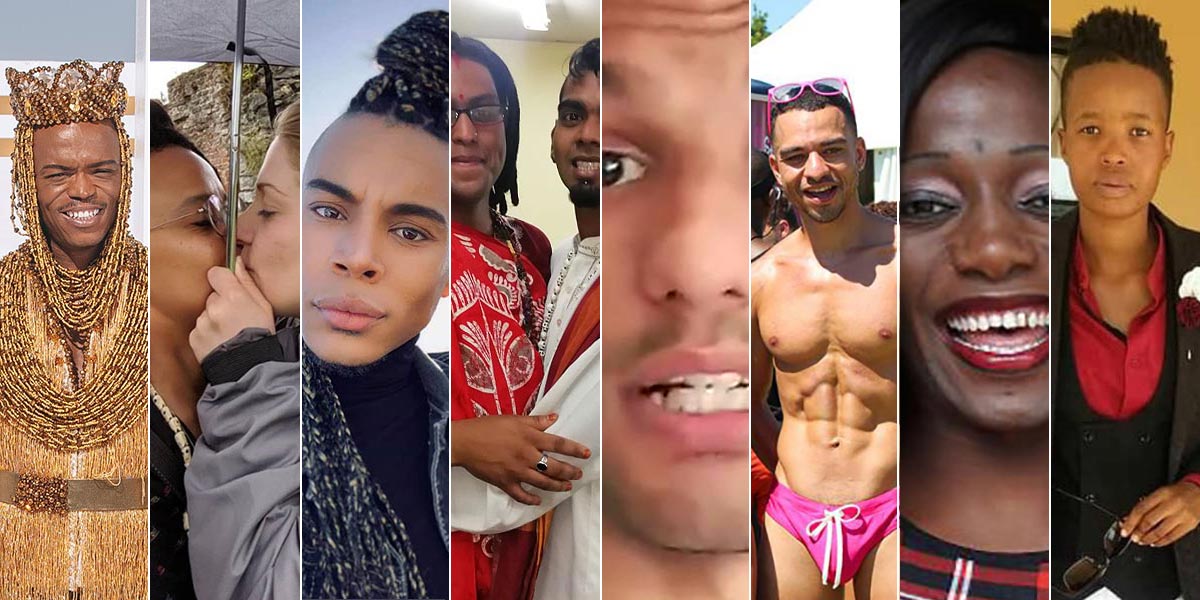 The world will never forget 2020 thanks to the destructive global impact of the Covid-19 pandemic. It was also an eventful year for South African LGBTIQ news – much of it, sadly, often marked by tragedy and hate.
While compiling these stories it did not go unnoticed that many, if not all, of the hate crimes we reported on in 2020 remain unsolved or are still lagging in the courts. Most queerphobic hate speech complaints also remain unresolved.
Below we present the year's 20 most-read articles that you – our readers – were gripped by. It's a fascinating, saddening and often infuriating snapshot of the queer year that was 2020.
20. Somizi's wedding reality show breaks Showmax record
Somizi Mhlongo and Mohale Motaung's spectacular celebrity-studded white wedding was undoubtedly one of the pop-culture queer moments of 2020. Their (inevitable) subsequent television wedding special documented the happy day as well as their traditional wedding the previous year. It went on to make LGBTIQ media history and break viewing records on local streaming service, Showmax.
19. Moffie Q&A: Star Kai Luke Brümmer
After making a splash at film festivals around the world, Moffie – about a young gay conscript who battles to survive compulsory service in apartheid South Africa's military – was finally released in local theatres in March. (Its promising cinema run was sadly cut short soon after by the Covid-19 lockdown). MambaOnline spoke to the acclaimed film's star, actor Kai Luke Brümmer, in this interview ahead of the release.
18. Imraan Vagar on why it took him "so long" to come out
The LGBTIQ community puts immense pressure on queer celebrities and public figures to make a spectacular public announcement about their identity. In August, television personality Imraan Vagar, who came out publicly in 2019, revealed why he refused to publicly state that he is gay for such a long time.
17. President Cyril Ramaphosa signs Civil Union Amendment Bill
A happy highlight of the year was when President Cyril Ramaphosa signed the Civil Union Amendment Bill during Pride month in October. The law removed the provision in the Civil Union Act that allowed government-employed marriage officers at the Department of Home Affairs to refuse to solemnise same-sex unions or marriages because of their personal religious or moral objections.
16. Gay man Simangaliso Dyasi shot dead in Soweto in suspected hate crime
In September, the LGBTIQ community in Soweto was devastated by the brutal murder of a gay man, Simangaliso Dyasi (affectionately known as Smanga) in a suspected hate crime. His body was found in his room after reportedly being shot several times. The murder was seen as another instance of the unacceptably high rate of violence faced by LGBTIQ South Africans.
15. Opinion | We need older gay men to be visible
Do older gay men exist? The media has often been accused of painting a picture of eternal youth and uber sex appeal when it comes to the representation of gay men. In this opinion piece, Motlatsi Motseoile argues that it's time that older gay men come out the closet and become more visible.
14. In pics | Cape Town Pride Mardi Gras 2020
The 17th annual Cape Town Pride was another vibrant celebration of sexual and gender diversity. Our gallery of photos of the 2020 Cape Town Pride Mardi Gras, which followed the parade, proved to be a hit with our readers. Due to the national lockdown, the event will be remembered as the only major South African Pride parade or march to have taken place this year.
13. School transgender rights champion Nare Mphela murdered
The year started with a shock when we learned that Nare Mphela, who won a landmark transgender discrimination case against her Limpopo high school in 2017, had been murdered. Her body was discovered with numerous stab wounds in her home in the Makopane area. Her death was described as "a painful loss to the Limpopo LGBTIQ community and society as a whole."
12. LGBTIQ+ woman Elma Robyn Montsumi dies in police custody in Cape Town
In June, an investigation was launched into the death of LGBTIQ sex worker Elma Robyn Montsumi in Cape Town. According to sex worker rights groups, the 39-year-old was arrested on a charge of drug possession and later died in police custody under unexplained and confusing circumstances. Questions were asked about why she was not granted bail and if she was provided with medical care after apparently falling ill. The matter is still ongoing.
11. Stanford wedding venue Beloftebos still won't host same-sex weddings
The Beloftebos wedding venue in the Western Cape was back in the spotlight this year after first refusing to allow a same-sex couple to marry on the premises back in 2017. In January, another couple – Sasha-Lee Heekes and Megan Watling – were also turned away by the Christian owners. The matter led to legal action against Beloftebos by the couple and the SA Human Rights Commission which is ongoing. The venue and owners have been backed by anti-LGBTIQ "religious-freedom" groups.
10. Alberton man's queerphobic religious rant goes viral
In another far too common instance of bigotry on social media, Tiaan Van Graan from Alberton sparked outrage in October after posting a queerphobic religious rant. The personal trainer was inspired to take to Facebook to condemn members of the LGBTIQ community as unnatural and ungodly, including asserting that gender non-binary individuals are "created by the devil."
9. Grief as talented LGBTIQ musician Lindo Cele is murdered in KZN
The loss of another promising queer talent this year, namely up-and-coming LGBTIQ musician Lindokuhle Cele (also known as Lindo) in KZN, made national headlines. The 23-year-old was murdered in February by a man in a shop outside of Durban. Despite his pleas for mercy, his attacker repeatedly stabbed him in broad daylight, apparently without anyone intervening. The case against the alleged killer, Mvuyisi Noguda, has continued to linger in the courts following a series of delays.
8. Cape Town hate pastor Oscar Bougardt's ongoing homophobia
Unfortunately, our least favourite 'holy man,' Cape Town preacher Oscar Bougardt, continued to make waves throughout the year thanks to his unrelenting and obsessive hate. This included suggesting that the LGBTIQ community had brought the coronavirus down upon the world and that slain queer dancer Kirvan Fortuin was somehow responsible for their own murder. Despite being previously convicted of hate speech, Bougardt has still not faced any consequences for violating a court order – another shameful example of the failure of our justice system when it comes to LGBTIQ matters.
7. Here are our 10 favourite local LGBTQ celebrity couples
To celebrate Valentine's month, we turned our attention to beautiful queer love by highlighting some of our favourite local LGBTIQ celebrity couples. While one or two of these couples went on to face a rocky road, the popularity of this article indicates how starved we are for positive LGBTIQ visibility, role models and affirming stories.
6. Gay Hindu couple finally marry in Richards Bay
In another welcome lighter addition to our list, this piece had a positive outcome for Muhammad Buckus and Kyle Pillay. The same-sex couple were finally able to tie the knot in October after a year of upsetting delays and excuses by the Department of Home Affairs in Richards Bay. Despite the happy ending, we can't ignore the unacceptable discrimination still faced by queer couples from state officials.
5. Jamie Davids murdered in Cape Town
Cape Town's LGBTIQ community was left reeling after drag queen "Jamie" Adnaan Davids was stabbed 25 times with a pair of scissors. Their murder followed the rape of a lesbian woman in the city just days earlier. The 30-year-old was murdered in the suburb of Athlone on 3 March. It's understood that the murder was related to a dispute about a stolen cell phone, after which Davids was threatened with death and rape.
4. Mpumalanga lesbian Portia Mtshweni's horror murder thought to be hate crime
While this story was published on 31 December last year, it was nevertheless one of our most-read stories of 2020. The half-naked body of 25-year-old Portia Simphiwe Mtshweni was found mutilated in Tweefontein, Mpumalanga. It was also suspected that she'd been raped. The brutality of the attack suggested that the young woman was the victim of a hate crime, likely killed – at least in part – because of her sexuality.
3. Christiaan Otto's religious homophobia sparks fury on social media
In April, Johannesburg man Christiaan Otto caused a firestorm on Facebook with a series of homophobic posts condemning gay people to hell. His comments and videos elicited hundreds of responses both praising and slamming his bigoted version of Christianity. The story hit the mainstream media but Otto remained unrepentant throughout the furore. He was at one point accused of being a closeted hypocrite after it was claimed that he had a Grindr profile (which he denied). The DA Rainbow Network was among those to report Otto's comments to the SA Human Rights Commission.
2. SA loses gay entertainer and pageant winner Mortimer Van Der Westhuizen
The untimely and tragic death of former Mr Gay Cape Town and singer Mortimer Van Der Westhuizen touched a nerve among our readers. The 30-year-old entertainer and entrepreneur died in a car accident in Centurion in February. Van Der Westhuizen grew up in Germiston and went on to become a well-liked performer and sang at numerous LGBTQI events and at venues around the country.
1. SA's queer community in mourning after LGBTQ dance groundbreaker murdered
Our most-read story this past year was the appalling murder in June of Kirvan Fortuin, an internationally recognised queer dancer, choreographer and ball culture groundbreaker in the Western Cape. Adding to the horror was the allegation that he was stabbed to death by a 14-year-old girl, reportedly in an argument sparked by her homophobic comments. The senseless snuffing out of another young and talented life made headlines in the mainstream media; not only shocking the queer and arts communities but also the rest of South Africa.