South Africa LGBTIQ+ Rights Watch: July 2023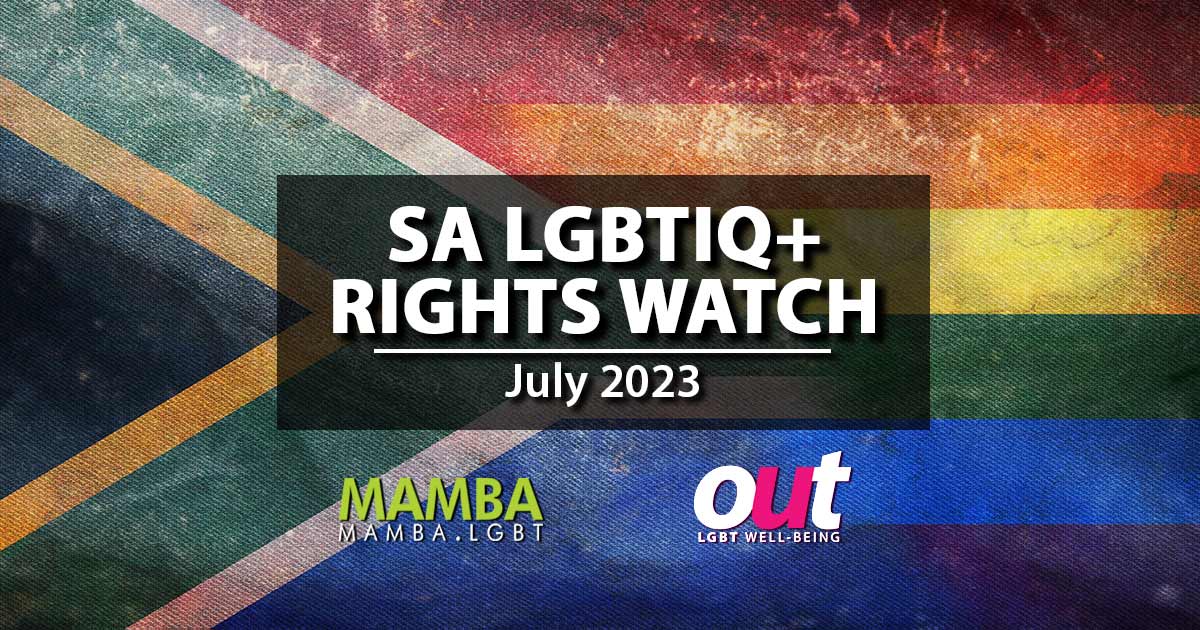 OUT LGBT Well-being and MambaOnline publish a monthly overview of reported LGBTIQ+ rights violations in South Africa, including hate speech. We also look at the status of cases making their way through the criminal justice system. Here is our summary for July 2023.
The Women's Legal Centre (WLC) filed an Equality Court case regarding a transgender former Cape Town learner. With support from Triangle Project, the transgender woman is challenging a discriminatory school policy and educators' conduct that allegedly violated her right to equality, dignity, and education. The case seeks relief against the public school and the Western Cape Department of Education, aiming to establish more inclusive policies and processes. The focus is on LS, a transgender woman who left the school in 2020 due to the denial of her right to express her gender identity.
OUT LGBT Well-being was approached by an individual who reported a disturbing incident, involving them and their partner in a public establishment in Gauteng. The openly gay couple said an aggressive individual entered the establishment and verbally threatened them. The aggressor is accused of using anti-gay slurs and making threats of physical harm. The couple captured the incident on video as evidence. OUT has referred the matter to Access Chapter 2's legal department for additional support.
A shop owner in Gqeberha, Dawood Lagardien, displayed a sign at his shop declaring: "LGBTQ not welcome at La Gardi – Save our Children". The sign sparked outrage and highlighted the growing anti-LGBTIQ+ sentiment promoted by conservative religious and political groups in the country. Lagardien claimed that LGBTIQ+ people are being "forced down our throat" and criticised their visibility. Despite being informed of the Equality Act, Lagardien challenged anyone to stop him. He allegedly also started a WhatsApp hate speech group in which some of the more than 600 members incited violence against the LGBTIQ+ community. Numerous complaints were made to the SA Human Rights Commission about Lagardien's conduct.
The community of Malmesbury in the Western Cape united to march in memory of Alfredo April, a beloved LGBTQ+ hairstylist, netball player, and drag queen, who was tragically murdered on 29 June 2023. Alfredo's friends, family, and community members also marched to raise awareness about gender-based violence and hate crimes against the queer community, and seek justice for his untimely death. The event was supported by Gender Dynamix, which offered counselling to his family.
Tensions flared at the University of Cape Town when LGBTIQ+ demonstrators clashed with EFF supporters during a protest against a lecture by queerphobic professor Patrick Lumumba, organised to mark the EFF's tenth anniversary. The LGBTIQ+ protesters expressed their rejection of Lumumba's anti-LGBTIQ+ statements and his support for Uganda's anti-homosexuality law. The EFF defended the lecture under the banner of academic freedom, but LGBTIQ+ activists accused the party of hypocrisy for claiming LGBTIQ+ allyship while supporting a homophobic speaker.
Tsietsi Cetele, a 23-year-old Soweto man, was assaulted and robbed after arranging to meet someone through Grindr. The assailants ambushed him, subjected him to physical violence, and robbed him. This incident is part of a recurring pattern where queer men, particularly in Johannesburg and Cape Town, are lured to meetings through dating apps and then assaulted, threatened, and robbed. Despite arrests in at least one case, the attacks persist. The LGBTIQ+ community is advised to exercise caution when using dating apps.
A man in Gauteng requested assistance from OUT LGBT Well-being regarding several incidents of slurs, harassment, and intimidation. He alleges that his neighbours have made homophobic statements and have attempted to force him and his partner out of their home. Despite efforts to communicate with their landlord, the situation has not improved, and the couple have felt singled out and targeted.
Vaal LGBTI reported that murdered lesbian Nomvula Chenene was finally laid to rest on 8 July 2023, allowing her family to start on the path to some degree of closure. Meanwhile, the case against Sizwe Buthelezi, the 36-year-old individual accused of killing Chenene, was again postponed to allow for further investigation. He was remanded in custody until the next hearing in September. Chenene went missing on 10 December 2022. Her remains were discovered buried underneath Buthelezi's shack on 25 March 2023 in Lakeside, south of Johannesburg.
Previous Editions
• June 2023 • May 2023 • April 2023 • March 2023 • February 2023 • January 2023 • November 2022 • October 2022 • September 2022 • August 2022 • July 2022
Have you experienced or witnessed an LGBTIQ+ rights violation such as a hate crime, hate speech or any other kind of LGBTIQ+ discrimination in South Africa? If you'd like to bring it to the attention of the LGBTIQ+ community, email info@mambaonline.com. 
If you need free support and/or legal advice on your LGBTIQ+ rights, please email OUT at report@out.org.za.
Access LGBTQI+ health, legal and other support services, and get information about your rights, gender and sexuality by dialing *120*72524# on any cellphone. *60c a minute.