East Rand restaurant continues to turn away gay couples from date night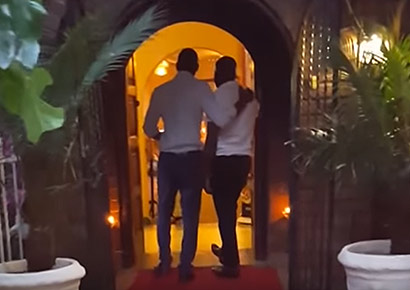 The Brakpan restaurant that wouldn't allow gay couples to attend its "date nights" last year is back in the news after turning away two undercover journalists.
EWN reporters Victor Magwedze and Clement Manyathela posed as a same-sex couple to see what would happen when they tried to walk in to the Lake Restaurant event.
Arriving at the door, they were approached by a man who asked: "No offence please, but are you a same-sex couple?"
When they replied in the affirmative, the man explained that the message sent to those who booked for the event "says that we don't allow same-sex couples".
He went on: "It's not that we discriminate but on our Thursdays we have that it is set that way… Any other day gay people come [but] Thursdays are like that… We only allow a man and a woman at a table."
The restaurant's co-owner, Sammi-Jo Amiras, then stepped in and offered to arrange a candle-lit dinner for the "couple" on any other night but was adamant that they were not welcome.
Mambaonline first reported on the restaurant's discriminatory policy in November after a lesbian woman, Mia Agrela, tried to attend the romantic evening with her partner.
She made a R350 payment as requested, after which she received a notification with further details about the event. In addition to a "No T-shirts or Tekkies" policy it also stated: "No Same Sex Couples."
Amiras insisted then that she did not believe that she was being discriminatory. "The event is designed for opposite-sex people, a man and a woman, to sit at a table," she said. Amiras compared the situation to turning away thirty-something people from a senior citizens event. "Am I then discriminating against them," she asked?
Amiras also threatened to sue Agrela for going public with the mater. "I will not let anybody demean our establishment. And if it means that I need to take Mia to High Court to stop her from continuing that, then that's exactly what I will do."
On Monday, Agrela told Mambaonline that she still intended to take the restaurant to court for discrimination. "I have an attorney… and we sent them a letter." She said that the restaurant had not responded so, "I have now informed my attorneys that we need to go to the next step, which is going to court."
Agrela added that she was "surprised" and "just so hurt" that the restaurant is continuing to reject same-sex couples.
Under the Equality Act, the denial of service on the basis of sexual orientation (amongst other factors) is illegal. In April 2015, the Equality Court in Cape Town ruled that owners of guesthouses cannot use their religious beliefs to turn away gay customers.