Mamba's 21 most-read queer stories of 2022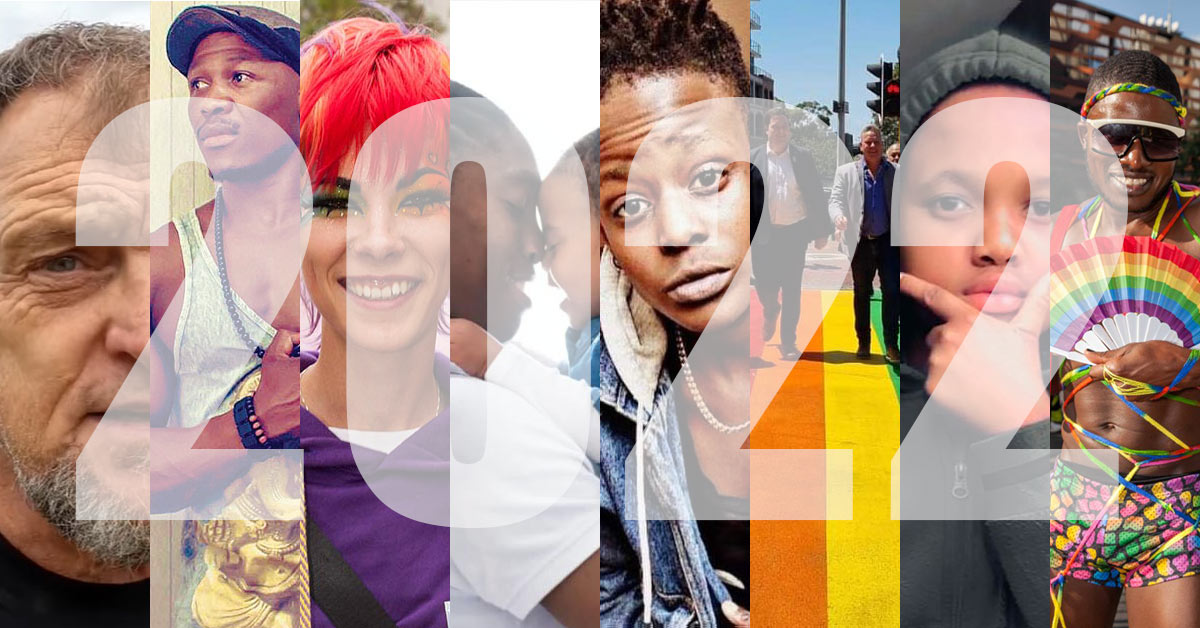 The year that was 2022, thankfully, saw a decline in the number of reported LGBTIQ+ hate crimes in South Africa, compared to 2021. There were nonetheless still several deadly attacks against queer individuals based on their sexuality, gender identity or gender expression.
The year was dominated by issues impacting LGBTIQ+ young people. These included unfounded hysteria about "sexualising" children, incidents of discrimination and bullying of LGBTIQ+ pupils (which at times had tragic consequences), and pushback by right-wing religious elements against efforts to create more inclusive schools.
Below we present Mamba's 21 most-read queer stories of 2022.
21. Civil society responded to the dangerous panic over "unisex" school toilets
More than 40 LGBTIQ+ and allied organisations responded to the extraordinary backlash against proposed Department of Basic Education guidelines that aim to make South African schools safer for LGBTIQ+ learners. It was the recommendation that schools provide gender-neutral toilets that was particularly controversial. Critics claimed the proposals are part of an "LGBTQ agenda" and are "a direct assault on the constitutional rights of learners coming from homes with religious, faith and cultural objections to LGBTQ…" In the letter, the groups clarified the guidelines and their purpose and urged parents to "apply their own minds to the document, and not to be misled by deliberate campaigns of disinformation, which exploit parents' fears and manufacture panic…"
20. Rainbow crossing unveiled in Cape Town's LGBTIQ+ district
In October, Green Point in Cape Town became the site of a pedestrian crossing in the Pride rainbow colours, the worldwide symbol for the LGBTIQ+ community. The crossing, which was launched during South Africa's Pride Month, was supplemented with a pink strip painted on the sidewalks to serve as a "Pink Route" to guide visitors and tourists through the historically LGBTIQ+ neighbourhood. Soon after, the queerphobic African Christian Democratic Party (ACDP) demanded that the crossing be scrapped.
19. Rainbow families: 6 South African queer celebrity parents
Many among us consider becoming a parent one of our biggest desires in life. For gay people, though, having kids isn't necessarily as, well, straightforward as it is for the rest of the population. With that being said, the number of gay celebrity parents is steadily growing. In this article, Angie Gallagher looked at six local queer celebrity parents who are helping to normalise rainbow families in South Africa.
18. I Knew Sheila Lumumba: Here Is My Story
Kenya's LGBTIQ+ community was shocked by the horrific 17 April murder of 25-year-old Sheila Lumumba, a non-binary lesbian. Well-known sexual and gender minorities' rights activist Denis Nzioka was moved to honour Sheila in this tribute. "As I looked at Sheila in the mortuary, I could not help but think how Sheila fought back. Sheila defended and fought back if the defence wounds and broken limbs are anything to go by. Sheila did not die a victim. They fought back and that is the Sheila I knew," wrote Nzioka.
17. "You are fully embraced," Botswana President told LGBTIQ+ leaders
In a landmark moment, Botswana President Mokgweetsi Masisi told representatives of the LGBTIQ+ rights organisation, LEGABIBO, that he was committed to upholding their human rights in an official meeting in January. This followed an earlier historic Botswana Court of Appeal ruling confirming the decriminalisation of consensual same-sex sexual activities. "Members of LEGABIBO can now derive comfort in the expectation of being fully included to benefit in all government services that they had hitherto been unable to access…" the president said. He added: "And please know for the record, you are fully embraced. Fear not, my job is to protect you and everybody else."
16. Bongs Ndima resigned as Mr Gay World South Africa
In late 2021, Bonginkosi "Bongs" Ndima became the first black man to officially hold the Mr Gay World South Africa title but in March he publicly and acrimoniously ended his relationship with Mr Gay World South Africa. In a statement, he made several allegations against the organisers, such as questioning their commitment to inclusion and claiming that they'd failed to support him. Mr Gay World South Africa denied the allegations and wished Ndima "nothing but love, happiness, prosperity and success in all his future undertakings".
15. KZN lesbian murdered after she rejected man's advances
In March, police received reports of a body lying along a path in Umlazi H-section, just outside of Durban. They found Pinky Shongwe, a 32-year-old lesbian woman, who had been brutally stabbed to death in a suspected hate crime. It was reported that when Shongwe was on her way home from the shops, she was approached by a man who professed his love for her. It's alleged that when she told the man that she dated women, he stabbed her to death in a rage.
14. Body of Refiloe Malope was found in mine shaft
This article reported the tragic conclusion of the weeks-long search for lesbian woman Refiloe Malope. In May, witnesses saw a screaming Malope being forced into the boot of a white sedan by two men in Kgaphamadi village, Limpopo. Police later learned that she had been murdered and her body dumped into a discontinued ventilation mine shaft in Benoni. Two men, one of whom was a police sergeant, were arrested on charges of kidnapping, murder and defeating the ends of justice.
13. Let's talk about (queer) sex! HOLA Africa's Tiffany Mugo
Motlatsi Motseoile talked to author and editor Tiffany Mugo about her work exploring and documenting queer sexuality in all its diversity. Mugo is the curator of HOLA Africa, a website that documents and provides resources for queer women and their sexuality. A fountain of knowledge on sex-positivity, she has also written and edited several books that explore the sex and sexuality of queer people.
12. Family mourned the loss of Soweto gay teen bullied by teacher
In August, South Africa was appalled by the tragic death by suicide of gay Soweto teen Tiro Moalusi. The 15-year-old took the tragic step after he was allegedly humiliated in class by a teacher at the PJ Simelane Secondary School.  The deeply upset Tiro went to visit an aunt after school and tearfully told her what happened before he took his own life. This incident followed the suicide of bullied 14-year-old Mpho Falithenjwa in June (see below).
11. Cape Town Pride 2022: The Parade Gallery
Cape Town Pride returned to the streets of the Mother City to celebrate the LGBTIQ+ community with the 2022 parade on Saturday 26 February. Our exclusive collection of pictures of the day, taken by Ramsey Lewis, was our most popular gallery of the year. We followed this up with a second stunning set of images from the annual event a few days later.
• See the Cape Town Pride 2022 gallery here
10. Top or bottom: Does it define you?
Conversations about being a "top" or a "bottom" are common in gay life. But while these expectations or roles may indeed accurately reflect the experiences and desires of some people, they can also become restrictive, boring and potentially harmful stereotypes for others. This article questioned if we're not too obsessed with restrictive and binary views of sex roles in the bedroom.
9. Barry Ronge left behind a 45-year queer love story
Film critic and journalist Barry Ronge was a veritable institution in South Africa's media world and his death saw many saddened by the loss. It's unclear when or if he ever formally "came out" to the public, but Ronge was always known to be gay without it being explicitly said, as was the norm for many of his generation. In this article, we celebrated Ronge's achievements but also highlighted his remarkable queer love story with his longtime partner, Albertus van Dyk, which spanned 45 years.
8. My amazing transgender son: a mother's story
In this powerful article, speaker and author Tertia Albertyn opened up about her experience as the proud mother of a 17-year-old transgender son. She wrote about grappling with the decision to support her son undergoing medical transitioning, and ultimately becoming his biggest champion. "While it has been challenging; emotionally, mentally, physically, and financially, it's been so worth it. It has been an honour and a privilege to travel on this journey with my son," said Albertyn.
7. No, Steve Hofmeyr, LGBTIQ+ inclusion is NOT sexualising children
MambaOnline's editor, Luiz De Barros responded to singer Steve Hofmeyr's assertions that including LGBTIQ+ representation in children's content was aimed at sexualising young people. De Barros outlined how this narrative is rooted in the heterocentric one-dimensional understanding of same-sex love and identity as being solely sexual in nature. "LGBTIQ+ children deserve to feel normal, to fall in love, dream, be included and feel the wonder of seeing themselves in the magical and transformative world of storytelling. And for that, Steve Hofmeyr, we make no apology," he wrote.
6. Top Joburg girls' school welcomed a transgender student
St Stithians Girls' College, a leading private Methodist school in Johannesburg, was praised for welcoming a transgender student. In an impactful letter to the school's parents and students in April, College Head Dr Sally James outlined the steps that had been taken to embrace the learner. "Individuals' right to live a life of dignity and safety is not a matter of opinion," said James. She urged students and parents to "join together on this journey with a growth mindset and with a commitment to being less judgemental, and rather being open to learning and affirming of individual uniqueness".
5. Johannesburg Pride faced a terror attack threat
Plans for Johannesburg Pride 2022 were thrown into disarray in October when the US Embassy issued a terror warning just days before the event. The alert – which made international headlines – warned of an attack in the general location and on the day of the Pride celebration. The organisers, however, were undaunted and went ahead with increased security and police presence. Defiant members of the LGBTIQ+ community also came out in their thousands to take a stand against queerphobia and hate, thankfully without incident.
4. Warning of spike in Grindr hookup scams
In March, queer men in Johannesburg were again warned about kidnapping and extortion incidents through dating apps like Grindr. The victims are typically lured to a location with sex as an incentive. Once they arrive, they are confronted by a several attackers, often forced to undress, and then tied up. They are then instructed to phone family and friends for a ransom. Queer men were warned to take additional precautions to stay safe when setting up meetings on dating apps.
3. A bullied gay 14-year-old took his own life
A Gauteng family was left devastated by the suicide of 14-year-old Mpho Falithenjwa after he was bullied for being gay. Mpho's heartbroken sister, Thando, spoke to MambaOnline about her grief and recalled his bubbly nature The teenager had earlier proudly described himself as "certified gay" on his Facebook profile. Mpho was one of several teenagers who died by suicide in 2021 after they were bullied, in many cases by teachers.
2. School punished learner for attending a drag show
Matric student Desiré Duvenage was punished and stripped of her "Land Service" school honours in July after her teachers saw a video of her celebrating her 18th birthday at a drag show. She was accused of "immorality" simply for having a night out with her friends at a gay venue. To make matters worse, no disciplinary procedures were followed by the school. Reacting to widespread outrage generated by our article, the school then apologised and withdrew all sanctions against the student.
1. Steve Hofmeyr claimed LGBTIQ+ community includes bestiality
South African singer Steve Hofmeyr and his hate speech were the subjects of our most-read article of 2022. In April, he caused a firestorm when he told his fans on social media that the LGBTIQ+ acronym includes and promotes the acceptance of bestiality. Hofmeyr also slammed Disney's promise to be more inclusive of LGBTIQ+ identities, warning that "our children will be taught how to have sex with mice, ducks and dogs". He later went on to offer a half-hearted apology, but continued to assert that Disney was aiming to "sexualise" toddlers and that the LGBTIQ+ community wanted access "to other people's children". He was taken to the Equality Court by the SAHRC and OUT LGBT Well-being.