A year of hate: Mamba's 20 most-read queer stories of 2021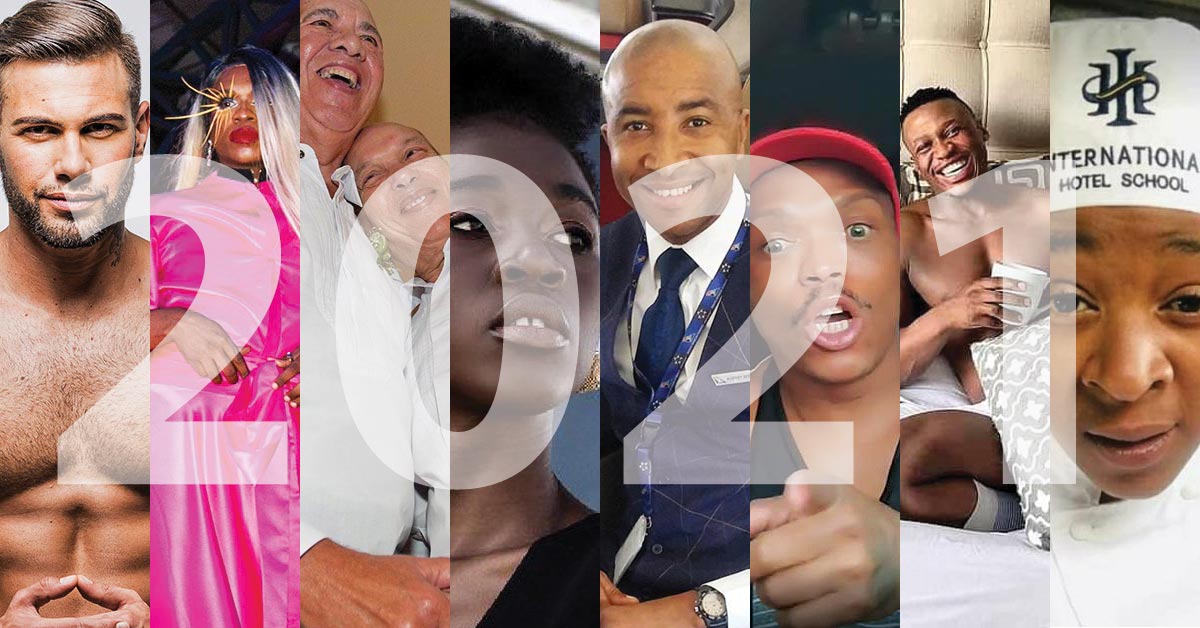 The year that was 2021 will be remembered by South Africa's LGBTIQ+ community as a dark period; marked by brutal murders and social media hate speech.
Many of us lost count of the more than 20 queer killings that rocked the country; which was already grappling with the ongoing Covid-19 pandemic, self-serving leadership and a devastated economy.
Disturbingly, many of these crimes have gone unsolved or continue to languish in the criminal justice system. In one case, a murderer was reportedly released with a suspended sentence (our attempts to confirm details of this sentence with the NPA have failed but are ongoing).
Of course, there also were moments of joy and lightness amidst the bleakness such as the official decriminalisation of homosexuality in Botswana, the victory in the Jon Qwelane hate speech case and the glorious Pride celebrations in Soweto and Namibia.
Below we present Mamba's 20 most-read articles of 2021.
20. SAHRC investigating queerphobe Taariq Jaftha
The use of social media as a platform for queerphobia came under the spotlight once again when Taariq Jaftha, the brother of top SA influencer Nadia Jaftha, launched a one-man hate campaign against the LGBTIQ+ community. Using his Islamic beliefs to justify his stance, he railed against LGBTIQ+ people, describing them as "sinful", "sick" and abnormal, and asserting that they "spread sin". Following numerous complaints, the SA Human Rights Commission confirmed it was investigating Jaftha.
19. Lehlogonolo Machaba is first transgender Miss SA contestant
In July, the LGBTIQ+ community celebrated Lehlogonolo Machaba becoming the first transgender woman to compete in the Miss South Africa pageant after she was selected for the Top 30. The inspiring North West stunner said: "I'm doing this for all the marginalized people, the girls, gays and 'theys' who've always been told that they will never amount to anything – this is for you." While no one can take away her historic achievement in transgender visibility, Machaba later sadly failed to make the Top 10 and was dropped from the contest.
18. Photos | Vogue Nights Jozi – The Extravaganza Ball
After a long Covid social dry-spell, Vogue Nights Jozi, one of the city's most influential queer events, exploded back onto the scene with its Pride Month party in October. Dozens came out to the Nest venue in New Doornfontein to celebrate gender-queerness and all things defiant and fabulous. Art met fashion as revellers wore their finest and most outrageous outfits. The stunning photos of the bash became our most popular image gallery of 2021.
17. LGBTIQ+ community demands President Ramaphosa condemns hate murders
In response to a wave of hate crime murders that shocked South Africa, the LGBTIQ+ community united in calling for President Cyril Ramaphosa to speak out. In April, representatives of the LGBTIQ+ community gathered at Constitution Hill in Johannesburg to address the crisis. A statement, signed by more than 20 human rights groups from across the nation, called out the government and others for not taking a stand. Sadly, things only got worse after that, although Ramaphosa did publicly condemn the murders later that month.
16. Meet Bongs Ndima, the new Mr Gay World South Africa 2021
In November, Bonginkosi "Bongs" Ndima became the first black man to officially hold the Mr Gay World South Africa title, taking over from Louw Breytenbach who had been crowned Mr Gay World (more on that later). The 37-year-old Ndima was formally presented with the Mr Gay World South Africa 2021 sash and title at a ceremony in Pretoria. Born and raised in Eshowe in KwaZulu-Natal, and living between Johannesburg and his hometown, he's a small business owner, an online video editor and a personal trainer.
15. 10 cheeky tips for better anal sex
Anal sex has come a long way from its taboo roots, with a lot of straight people now also admitting that they enjoy a little backdoor action (or pegging). Although this sex act has long been associated with gay men, it's important to mention that anal sex, just like any other kind of sex, may not be everyone's cup of tea, whether they're gay or straight. These ten handy tips to better enjoy butt play was a major hit with our readers.
14. A sister's grief | Gay man murdered in alleged Joburg hate crime
The year was marked by a horrific spate of murders of LGBTIQ+ South Africans, as exemplified by the senseless killing of Zimasile Zubair Shabangu in Johannesburg. In this heart-breaking interview, Zimasile's sister, Zubaida, recounted witnessing her brother – whom she described as "practically my twin" – being stabbed to death in front of her after a night out that went horribly wrong.
13. Fury as Cape Town school bans LGBTIQ+ students from marking Pride Month
In June, local celebrations of international Pride Month were marred by DF Malan High School in Bellville in the Western Cape. The Afrikaans school's governing body refused a request by pupils to commemorate Pride because it said this could lead to "tension and division". A group of around 40 students nevertheless defiantly held a low-key rainbow gathering during break time leading to a backlash from other pupils and the principal. Happily, other schools were much more queer-inclusive when it came to celebrating Pride.
12. Dubious Somizi and Mohale sex life article fueling homophobia
In a sensational headline-grabbing scandal, South Africa's most high-profile queer celebrity couple – Somizi Mhlongo and Mohale Motaung – officially broke up amidst shocking claims of domestic violence. In an audio clip, Motaung alleged that he'd been physically abused by his Idols SA judge husband during their relationship and marriage (which Mhlongo denied). The claims became fodder for homophobes who shared lurid fake stories about the couple's sex life that sparked a wave of online bigotry on social media.
11. Former Afrikaans boyband singer Jay du Plessis in gay slur furore
It was not a good year for former South African pop heartthrobs who've turned to conservative and tone-deaf queerphobia and/or heteronormativity in their later years. In March, Afrikaans singer Jay du Plessis, who is known for his stint in the boy band Eden, shared a tweet that ridiculed a series of images of male models wearing gender non-confirmed fashion. He also inappropriately used the term "f*gg*t" in response to a critic.
10. Hate crimes crisis | Promising LGBTIQ+ chef Phelokazi Mqathana murdered
In May, South Africans were horrified by the murder of 24-year-old Phelokazi Mqathana, a promising young chef, in Cape Town. She was stabbed to death in Khayelitsha, allegedly after she rejected the advances of a man while she was out socialising near her home. The young woman had recently finished a chef's course and was described as a "go-getter who had plans to take [her] family to another level…"
9. Outrage as Sizzlers massacre killer is considered for early parole
Memories of South Africa's worst queer mass killing, the Sizzlers massacre, resurfaced in March when the sister of one of the victims asked President Ramaphosa to help ensure that his killer does not go free. Leigh Visser was just 14-years-old when her 22-year-old brother, Warren Visser, was slaughtered along with eight others at the Sizzlers gay escort agency on 20 January 2003 in Cape Town. Following reports that one of his killers, Adam Woest, was being considered for parole, Visser launched a so-far successful campaign to ensure that he does not go free.
8. Idols SA winner Heinz Winckler in school transphobia storm
Pop star-turned-preacher Heinz Winckler was named as one of the parents questioning a Somerset West school's decision to embrace a transgender pupil's gender identity. It was reported that De Hoop Primary School's governing body agreed to the child's parent's request in August to acknowledge her as a girl. But some parents, allegedly led by Winckler – best known as the winner of the first season of Idols SA in 2002 – were not too happy about the decision.
7. Walter and Gerry: Celebrating a 64-year gay love story
Possibly our most heart-warming article of the year was about the decades-long love story of Walter Sassman and Gerry Dagnin, who passed away in Cape Town. The couple, who faced both the indignities of apartheid and the criminalisation of their love for much of their lives, were together for an astonishing 64 years. After meeting at a New Year's Eve party in 1957, they became inseparable, officially tying the knot in 2010 when they were both in their 70s.
6. Gay artist Aubrey Boshoga stabbed to death in Joburg
Tributes poured in for much-loved gay artist and flight attendant Aubrey Boshoga who was murdered in Johannesburg in May. According to reports, the 48-year-old's body was discovered on the pavement outside the gate of his home in Observatory. He had been stabbed multiple times. Shocked friends, colleagues, acquaintances and celebrities like Simphiwe Dana took to social media in disbelief and heartbreak at Boshoga's death. He was remembered as a vibrant personality, a talented creative, a fashionista and a good friend.
5. Shock as Mr Gay World 2021 Louw Breytenbach resigns
Less than two months after being crowned Mr Gay World 2021, South Africa's Louw Breytenbach handed back the sash, claiming that the pageant's contract was "unconstitutional and opaque". In a sensational media statement, Breytenbach said he'd refused to sign the agreement offered to him by the organisers after he was crowned in October, which led to "a back and forth legal battle". The organisers denied his claims and his account of what happened and said they planned to take legal action against him.
4. Queer hate rocks SA: Gay Gauteng man stabbed to death
In yet another suspected LGBTIQ+ hate crime, Nathaniel Mbele, known as Spokgoane, murdered in the Vaal area. He was found stabbed in the chest on the 2nd of April in Tshirela, near Vanderbijlpark. According to reports, Mbele, a resident of Bophelong, was last seen alive at a tavern in Tshirela. He left without telling his friends where he was going and his body was later found nearby. (The man arrested for his killing was reportedly released on a suspended sentence although details are still to be confirmed.)
3. Historic! Chris Pappas to become SA's first openly gay mayor
In a historic moment for the LGBTIQ+ community, 30-year-old Chris Pappas became what's believed to be the first-ever openly gay mayor in South Africa, and likely Africa too. Pappas was named the mayor of the uMngeni Local Municipality in KwaZulu-Natal after the DA won 47% of the votes in the area in November's local government elections. He never shied away from being his true self and included photos of him and his fiancé, JP Prinsloo, on his mayoral campaign Facebook page.
2. Disbelief as former Mr Gay South Africa Lance Weyer dies
Members of the LGBTIQ+ community were shocked when former Mr Gay South Africa and DA councillor Lance Weyer took his own life at the age of 34 in November. The news quickly spread across social media, with many sharing their disbelief and grief at the death of such a young, respected and dynamic man. Weyer shot himself at his parent's home and his last Facebook post, just hours before his death, indicated that he was in a dark space. Weyer's suicide sparked a much-needed conversation about mental health in the LGBTIQ+ community.
1. Rian van Heerden suspended for lashing out at homophobe
We were somewhat surprised that this was our most-read story of 2021. In March, out gay radio presenter, Rian van Heerden was taken off the airwaves after he swore at a homophobic listener. "Can you fucking 'm*ffies' talk about something else at this time of the day, please?" said the man in an SMS to the Jacaranda FM host. He was referring to an earlier interview with actor Earl Gregory about his role in the South African rom-com No Hiding Here. Fed up with being insulted once again because of his sexuality, Van Heerden called and confronted the listener on air. Many questioned why the presenter was punished for standing up for his dignity while the man suffered no consequence.